Russia risks being left without terminals for paying with cards at retail outlets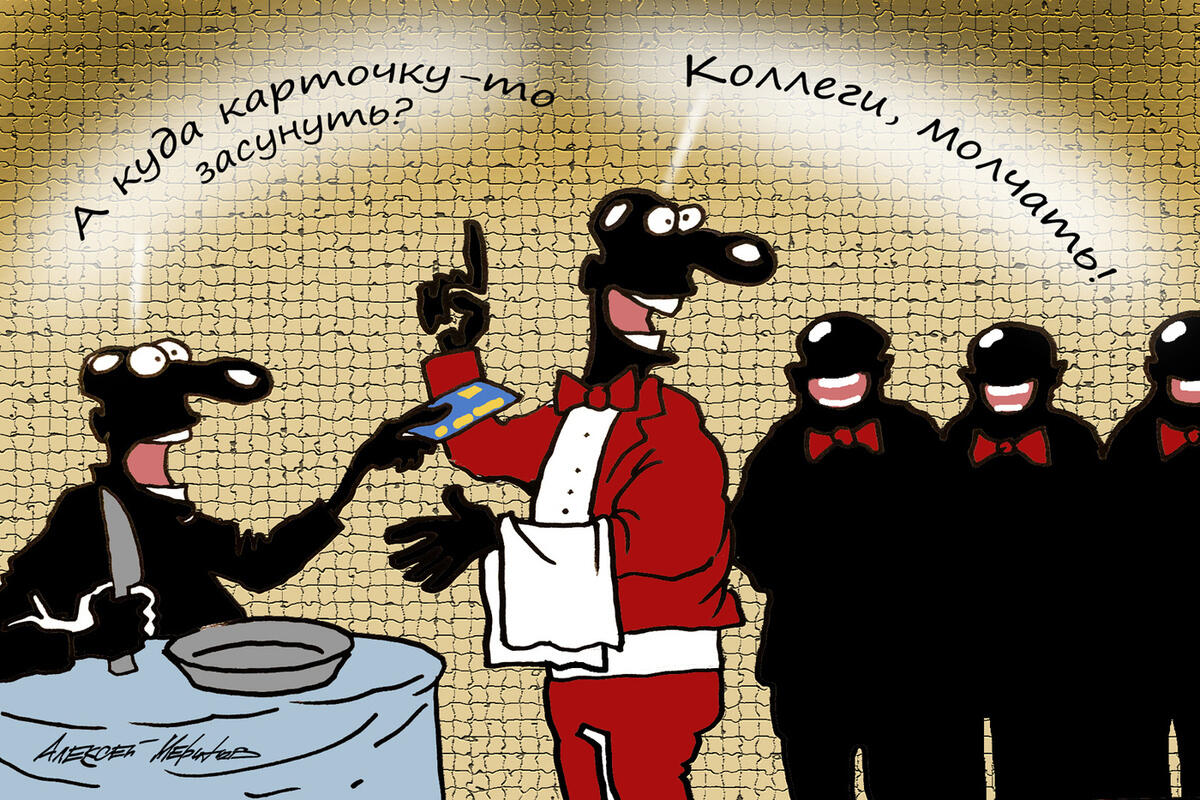 The manufacturer occupying half of the market may leave in the spring
From March 1, Ingenico, a manufacturer of terminals for accepting cards for payment, may leave the domestic payment market. Its headquarters is in France. The company worked in Russia for 16 years and became the main partner of the two largest state-owned banks and another credit institution associated with the military-industrial complex. Ingenico accounts for half of all card payment terminals in our country. What will happen to the payment market after the departure of such a large manufacturer and how this may affect the financial life of Russians, experts told MK.
A payment terminal or POS-terminal (from the English "point of sale" - a point of sale) is a technical device designed to accept payments using bank cards. All Russians have at least seen (and most likely used) such terminals, as a rule, similar to small black boxes with large numbers - in shops, restaurants, ticket offices: in general, wherever you can pay with bank cards. The cost of one such device ranges from $150 to $200. According to the Bank of Russia, at the end of the third quarter of 2022, about 4 million POS terminals were installed in Russia. According to INPAS, the share of Ingenico in Russia is about 50%, that is, about 2 million units. It is curious that Ingenico did not officially announce plans to leave Russia, but, according to RBC sources, the company has been trying for several months to find a way to leave our country so that the harm to the payment market is minimal. At the same time, contracts with employees in Russia are valid only until February 15, which also indirectly confirms the intentions of the management. After leaving, there may be difficulties with spare parts and software (SW), which the French company developed for Russia on its own.
The opinions of experts on the consequences of the departure of the leading company for the payment activity of Russians are divided. Some argue that banks can easily find a replacement, and citizens have long had alternatives to pay at retail outlets, for example, using QR codes, so no one will notice anything. Others point out that the worst thing that citizens may face when such a large player leaves the payment market is the rise in the cost of transaction services. As TeleTrade analyst Aleksey Fedorov pointed out, in the event of a complete withdrawal of Ingenico, about 2 million devices will need to be replaced in the country. In this case, the total cost of replacing devices could be approximately $400 million (25-30 billion rubles). This is quite a lot, especially if you have to do such steps in a time-compressed format. Therefore, in the most pessimistic scenario - a quick exit of Ingenico from Russia - most of this amount of expenses will naturally be shifted to end users, so the cost of transactions may become more expensive, at least for the transition period, the expert emphasized.
Questions also arise in connection with the creation and maintenance of software for terminals. "Perhaps the largest state-owned bank will distribute software to all terminals in the Russian Federation as a payment standard and services may temporarily rise in price, although if you use QR codes or "payment by transfers", nothing will change," said Associate Professor of the Department of Informatics of the Russian University of Economics. G. V. Plekhanov Alexander Timofeev.
Another number of experts argue that the French company is only making things worse for itself, and the Russians will not even feel the changes, because its competitors will begin a sharp struggle for the vacated market share. "Russia is quite an attractive sales market, including for manufacturers of electronic terminals," says Maksim Osadchy, Head of the Analytical Department at BKF-Bank. - A holy place is never empty: the French leave - the Chinese come, the positions of their company PAX are strengthening. It is interesting that pos-terminals of the American company Verifone can still be bought, used and serviced in Russia without any problems."
Some analysts warn that if the company leaves, there will be problems with terminal maintenance and software support. But Osadchy doubts this. Russian service companies cope with the maintenance of ATMs of manufacturers who have left our country, they will also cope with the maintenance of terminals, and no one has canceled parallel imports, the expert emphasized.
"Well, the "unfriendly" company decided to leave the market, so what? — continues the conversation the head of InDeFi Smart Bank Sergey Mendeleev. - Firstly, it has not yet decided, but is only "considering the possibility." Secondly, do not leave, but donate your market share to your direct competitors, who will immediately occupy it. Thirdly, we have already seen several such "leaves", when absolutely the same product appeared the next day under a slightly different brand, and consumers are satisfied, and formal politeness is observed." And most importantly, the Central Bank of the Russian Federation, obviously, has long been ready for a similar development of events: payment by QR codes has already become commonplace. After all, a terminal is just a convenient intermediary between a client with a card and a bank, and it is easy to replace it, Mendeleev is sure.