Antonov warned that Abrams tanks would be destroyed if they were delivered to Ukraine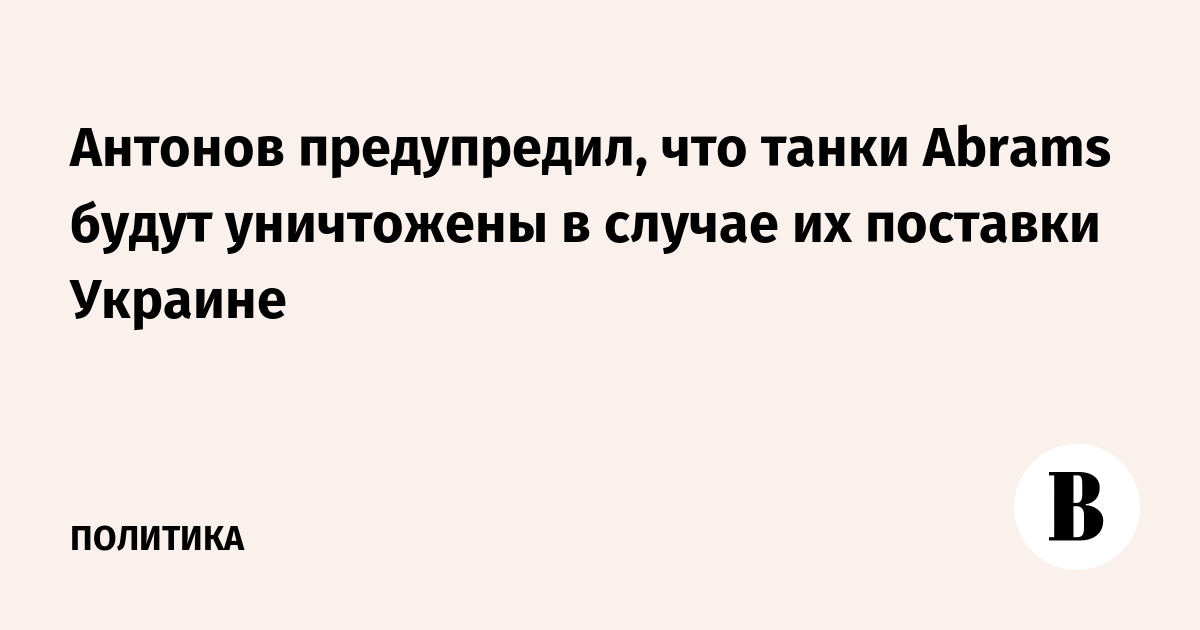 Sending American Abrams tanks to Ukraine would be a "blatant provocation" and military equipment would be destroyed by the Russian army. This statement was made by the Ambassador of the Russian Federation to the United States Anatoly Antonov, his words quotes press service of the diplomatic mission.
"There is no doubt that if a decision is made to transfer M1 Abrams to Kyiv, American tanks will be destroyed by our military in the same way as all other samples of NATO equipment are destroyed," Antonov said, commenting on media publications about the possible supply of Abrams tanks to Kyiv.
According to the ambassador, the US authorities "raise the bar for military assistance" to Ukraine when the Russian military demonstrates success in the course of a special operation. Washington is trying to inflict a strategic defeat on the Russian Federation and is waging a "war by proxy" with Moscow, Antonov concluded.
He stressed that the United States would not be able to justify the supply of tanks with words about "defensive weapons", and called the possible step a "blatant provocation" against Russia.
The day before, January 24, The Wall Street Journal wrotethat the administration of US President Joe Biden is leaning towards the decision to send Abrams M1 tanks to Kyiv. Sky News Arabia TV channel claimed that it was about sending 10 tanks. Later at the Pentagon this information not confirmed.
The Kremlin has repeatedly warned about the negative consequences of sending tanks to Ukraine. Press Secretary of the President of the Russian Federation Dmitry Peskov said that the transfer of weapons would not fundamentally change the situation, but would "add problems" for Ukraine.
January 22, Speaker of the State Duma Vyacheslav Volodin declaredthat the supply of offensive weapons by Western countries to Kyiv will lead to a global catastrophe. He warned that in such a case, Russia would have to use "more powerful weapons."