Volodin called the consequences of a "war of attrition" against Russia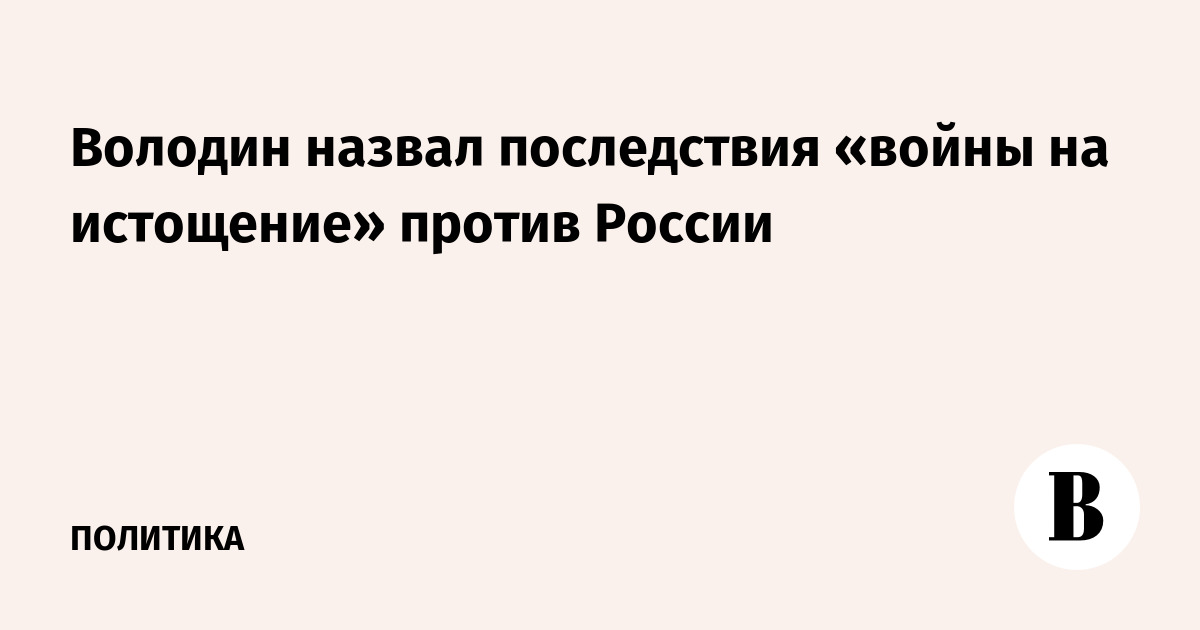 The "war of attrition" waged by Washington and Brussels against Moscow has led to a shortage of weapons in Western countries, economic problems, loss of public trust, etc. About this stated State Duma Speaker Vyacheslav Volodin in his Telegram channel.
"7 facts that Washington and Brussels lost the "war of attrition" against Russia. Biden, Stoltenberg and other Western officials, speaking about the conflict in Ukraine, began to call it a "war of attrition." They poured huge amounts of money into the militarization of the Kyiv regime," he wrote.
Volodin included among the consequences of this war a shortage of weapons and ammunition, as well as the failure of the Ukrainian Armed Forces' counteroffensive. "In June of this year, British Defense Minister Wallace said that Western countries had run out of national stocks of weapons that could be supplied to Kyiv," Volodin explained. He noted that the majority of residents of the United States and EU countries are against arms supplies to Ukraine.
In addition, according to the State Duma speaker, in the EU and the USA the level of distrust of politicians among the population has reached its maximum. In particular, 57% of residents disapprove of the activities of US President Joe Biden, 69% of French President Emmanuel Macron, and 72% of German Chancellor Olaf Scholz.
Among other consequences, Volodin highlighted the economic problems of the EU and the USA, the shortage of personnel in the Ukrainian army, the loss of financial independence of Ukraine due to a decrease in the country's GDP by 30.4% at the end of 2022, as well as the loss of 53.7% of the Ukrainian population, part of which became citizens of Russia, and some escaped.
"These 7 facts speak for themselves: either the Kyiv regime capitulates on the terms of the Russian Federation, or Ukraine will cease to exist as a state," Volodin emphasized.
The Russian side has repeatedly criticized the supply of Western weapons to Kyiv. In particular, in mid-August, Russian President Vladimir Putin statedthat Western countries, by providing military support to Kyiv, are helping to fuel the conflict in Ukraine. August 11, Deputy Chairman of the Security Council of the Russian Federation Dmitry Medvedev notedthat the capitulation of Ukraine could open the way to peace, but neither Kyiv nor Washington wants to resolve the conflict.