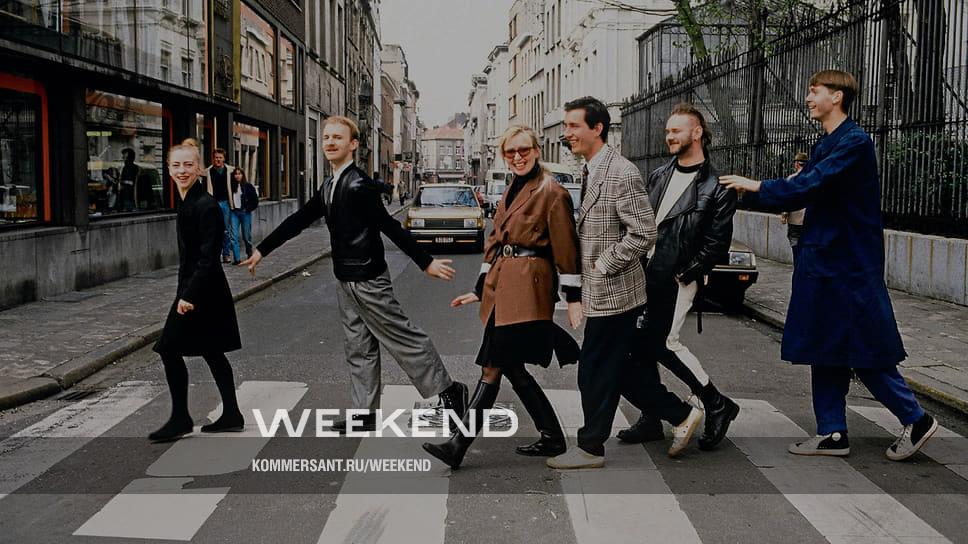 The Antwerp Six is ​​the only team of young designers in the history of the latest fashion that is aware of itself as such. More importantly, these six young Belgians, or rather even Flemings - Anne Demelmeister, Dries Van Noten, Dirk Bikkembergs, Walter Van Beirendonk, Dirk Van Saen and Marina Yi - are also the only such team that managed to somehow change fashion.
The Antwerp Six - Antwerp Six, Six d'Anvers, Antwerpse Zes in Dutch - literally never was a creative group. Rather a company of young people with ideas and ambitions. They had a common background - the Antwerp Royal Academy of Fine Arts and its professor Linda Loppa, with whom they all studied in the late 1970s and early 1980s, their mutual friend Gert Bryuloot, the owner of the Antwerp fashion store Coccodrillo, who strongly encouraged them to promote and international career.
It was absolutely natural and very practical for such a company to chip in, rent a truck, throw their collections there and go to London in March 1986 - at the instigation of the same Gert - to the British Designer Show. There immediately arose a problem with their Flemish names - Dries Van Noten even recalled that at the very beginning they wanted to take Italian pseudonyms for themselves (I don't know if seriously or as a joke). Journalists and buyers, not wanting to pronounce and understand, immediately renamed them Zes, and then, for even greater simplicity, Antwerp Six.
There was no aesthetic unity in Antwerp Six - on the one hand, the six was Walter Van Beirendonck with his multi-colored carnival cosmism / futurism, on the other - Ann Demelmeister with her black and white melancholic gothicism, and somewhere in the middle, Dirk Bikkembergs' avant-garde, gentle surrealism Dirk Van Saen and Marina Yi's soft, pliable resurfacing. Well, the difficult-to-define Dries Van Noten is the only one of them who is still an active big fashion designer on the international fashion scene.
It is customary to unite them all with the word "deconstruction" (and to call the entire Belgian fashion of that time "Belgian deconstructivism"), but each of them had their own deconstruction. And in general, their deconstructivism was not the first and not the only one in the fashion world of that delightful era.
What makes the Anwerp Six a collective, a group, is the result of their joint efforts.
First of all, thanks to them, Belgian fashion became known outside of Belgium, quite then from the point of view of provincial fashion. Their appearance on the podium created a sensation, which was the beginning of a long history. Not only do they themselves continue to make fashion (full-scale, like Dries Van Noten, or chamber, like Walter Van Beirendonk, or even more chamber, like Dirk Van Saen), but their appearance paved the way for the next generation of Belgian fashion - Raf Simons, Haider Ackermann , Véronique Branchino, Olivier Tiskensu.
Zes turned the Antwerp Academy into one of the world's premier fashion schools, producing a string of famous and important people in fashion ever since. From the six designers who went to London in 1986, there is a direct line to Demna Gvasalia, who graduated from the same academy and absorbed its traditions.
As a company, they did not last long, and by about 1988, each had already gone its own way. The last time they publicly appeared together ten years ago, in June 2013, at the celebrations on the occasion of the 50th anniversary of the Faculty of Fashion of the Royal Academy of Fine Arts. But their business lives on—and even flourishes in a certain way.
And this is much more important than the appearance of the Belgian fashion space. They expanded the space of beauty to almost infinity, when almost any, the most banal, the most utilitarian, the most nondescript things, being placed in a certain context, can become beautiful and expressive.
Here, of course, one cannot do without one more name - the main Belgian genius and, in general, the main person for modern fashion, Martin Margiela belongs to the same generation, came from the same academy, but was not part of their company. By the time the Antwerp Six appeared, he was already working in Paris as an assistant to Jean Paul Gaultier, and his house, Maison Martin Margiela, will be located there. But all of them, albeit in different ways, moved fashion in the same direction.
They twisted, ripped, altered in a metaphorical sense all the stereotypes of beauty and elegance that fashion then had to deal with, and in a literal sense - all the standards of traditional things, in general, everything old. No wonder they were all fans of flea markets and vintage clothing.
Every cliché was turned inside out, every institutional definition was called into question. What is casual and what is dressy? What is a finished thing and what is an unfinished thing? Where does the body end and clothing begin? What happens in the space between them? What can be a fashion item and what cannot? And of course - what is masculine and what is feminine? From these questions that they posed with their collections, and the answers that they themselves gave, an idea arose about beauty in the modern consciousness, about fashionable and unfashionable - that is, new mechanisms for the production of fashion, a new way of seeing it.
And besides, all of them, together with Margiela, being Flemings, had a rather strong national and cultural identity, very different from French, Italian, British and American - that is, all those that existed then in fashion. And she, this identity, shaped their view, the way they look at things, the way they see everything - the cut, the silhouette, the proportions, the details and the whole, the new and the old. To avoid the invariable references in such cases to the Flemish artists, to the Belgian surrealists and constructivists, I will end with a story that Marina Yi tells about one of her collections.
It was a heavy cotton collection, and Marina explains the choice of material as follows: "This cotton reminded me of an artist's apron – especially the one I saw in the film about Camille Claudel, she wore it in the 1900s and it was so beautiful. It's a very natural material, not glamorous in a way, but I love it: to use an almost ordinary tablecloth, or an artist's apron, or work clothes, to make something exceptional out of them.
This apron symbolically - and practically, if you look, for example, at the finalists of the LVMH award in recent years - is the very overcoat from which all the new fashion came out.
---
Subscribe to Weekend channel in Telegram