9 series about angry youth – Weekend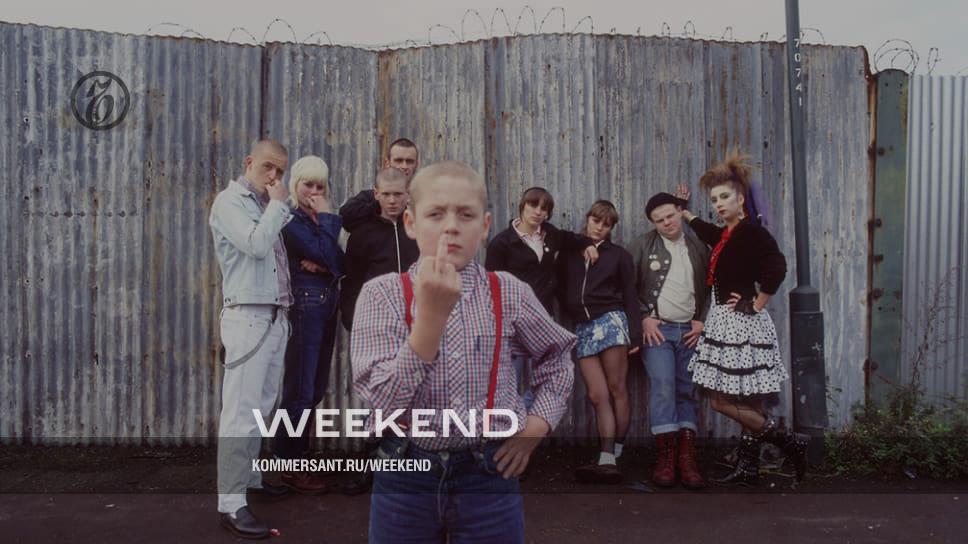 The subcultures generated by angry youth sooner or later always absorb and take into circulation show business - and series about rebellious teenagers are presented in abundance in all genres and countries. We chose 9 series that recorded the youth rebellion from different sides in all stages of its evolution.
---
"Wayne"
YouTube Premium, 2019
rebel loner for no reason
Angry boy Wayne is used to defending his truth with his fists and walking beaten. All over the world, only his girlfriend Del is on his side, who ran away from redneck dad when he wanted to beat her, in response Wayne bit off his nose. Together, they start running around the cities and villages to return the vintage Pontiac, on which Wayne's mother once left them with her father in the company of a rogue lover. Gentle scumbag Wayne has not felt pain for a long time - only anger at a world where adults behave like jerks: they don't know how to be faithful, they can't be strong and confuse justice with violence. A horde of adults will rush in pursuit - all those worthless parents, useless teachers and evil cops - but they have a thin gut to catch up with Wayne. In fact, "rebels without a reason" do not exist, and earlier it was necessary to think about who is the adult here: the one who is responsible for himself. Not belonging to any youth subculture, Wayne embodies them all.
---
"Garbage"
E4, 2009–2013
juvenile delinquents with superpowers
Under the supervision of a boorish overseer, five teenagers hunchback on public works: an athlete, a bully, a sexy beauty, a nerd and a loser from the working class. Everyone has committed an offense that threatens to undermine the foundations of the current society of universal justice: set fire to a neighbor's house or stole sweets, got caught with drugs or fought back an aggressive boor. They dejectedly scrape the graffiti off the walls until a thunderstorm breaks out over London, granting them superpowers. Now the quiet woman can become invisible, the athlete sees the future, and not most men, but everyone lusts for beauty. Which of the teenagers did not dream of superpower - but for the "dregs of society" they become not a reward, but a test, a continuation of their inexhaustible children's complexes. It turns out that "difficult" teenagers find it difficult themselves.
---
"Hippie"
BBC 2, 1999
brave parodic fighters against the system
Ray considers himself the main London hippan, because in 1969 he lives in a separate apartment, inherited from his parents, and publishes the non-conformist magazine "Rupor". He is a guy anywhere, only his beard is thin, and his feminist friend Jill prefers to give the world a chance in bed not with Ray, but with a visiting guru from New York. Then the die-hard Ray organizes his own loud protest at the sandpaper exhibition, where he is taken away in handcuffs with his face scratched by sandpaper. But Jill is unaware - in the next episode she will grow a beard herself. Behind the mild mockery of the main subculture of the 1960s, envy is visible (the current ones no longer rebel, but can only consume) and hides the idea that in fact young people fall into informal movements not out of protest, but in search of community. Parody hippie Ray wants to stand out and be like those who are now authority in the world - not like boring parents, but like generational gurus from New York.
---
"Guerilla"
Showtime 2017
followers of the Black Panthers in London
At first, black English teacher Marcus and Pakistani Jas only go out to peacefully protest against discriminatory immigrant laws. But when their comrade is killed with batons by police from the special department to combat black radicals (almost all cops are from Rhodesia), Marcus and Jas themselves become radicals and kidnap their ideological leader Dhari from prison. This is Jas's idea: "Meinhof stole Baader from prison, and the Weathermen freed Tim Leary - so can we!" When Dhari gets involved in the drug business on the loose, the timid Marcus tries to rationalize what is happening - "maybe he will still become the next Malcolm X?", And the ex-boyfriend persuades Jas not to go into crime. But the brave feminist takes the machine gun and her fate into her hands too: because there is no hope for men - that's why.In London in 1971, in addition to the caricature Ray from the TV series "Hippies", there were also real fighters against the system, "British Black Panthers", two of them advised the writers of "Guerilla".
---
"This is England"
Channel 4, 2006–2015
provincial skins
In 1983, schoolboy Sean from a boring English province, whose father died in the Falklands, joins a gang of skinhead teenagers. They look luxurious: bob cut, in rough martins and Ben Sherman shirts with indispensable suspenders. But the main thing is that now he is not alone, now he is a member of the pack. Soon a split occurs in the company of skins: Combo, a sociopath who has served time, drags Sean to a meeting of the National Front, where racist slogans are in use, and then brutally beats the mulatto Milky. The film takes a close look at the amazing mutation of a free subculture with Jamaican roots into a nationalist muck entangled in social issues. But that's not all: in three sequels, the film becomes a series and we see the same heroes in 1986, 1988 and 1990 - a raid of youth subcultures flew off them like smoke from white apple trees, they became adults, but remained angry, just now they get angry quietly, sitting at home watching TV, and mostly at themselves.
---
"Gun"
Hulu, 2022
first generation punks
The creed of guitarist Steve Jones, who founded the Sex Pistols in 1975, in the series is: "We were working-class children, bored and angry, could not scrape together money for a pint and were invisible to all other people: society did not care about us, and we answered the same. We are the bad kids that were left when the good ones ran out." The punk subculture flourished quickly and wildly: atonal music, idiotic mannerisms (the world is not worthy of good manners), ragged fashion, mohawks, cheeky slogans on T-shirts, spiked bracelets and a hangover face. "Anarchy in the United Kingdom" performed by "pistols" did not last long - only about three years, until Sid Vicious literally followed the slogan "live fast - die young." But decorative punk ammunition is still selling well: show business has monetized, chewed and spat out far more than one youth subculture.
---
"King and the Clown"
Kinopoisk, 2023
Leningrad punks of the latest generation
With the same slogan "live fast - die young," he runs after Gorshk, the young frontman of the King and the Jester group, who has settled in his mind the annoying Jester. When yesterday's pet players with guitars are assembling the huge Yubileiny Sports Palace, the Jester whispers: they say, this is the highest point of Pot's career and you can jump from the roof - it won't get any better. But the bosom friend Prince keeps Pot from falling, and together they live a short but happy life in creativity - and at the same time in the fantasy world of their songs, where they fight monsters, conjure a sorcerer's doll and, having run up, jump from a cliff. The jester nevertheless shook Pot, not allowing him to grow old in a new era, when only decorative Iroquois and memories remained from the punk subculture.
---
"Skins"
E4, 2007–2013
underage hedonists
A new era has come, but the 21st century has not given rise to powerful youth subcultures, which the 20th was sick and famous for. Consumers took the place of the angry protest youth. Three generations of "babies" from the series seem to have picked up the romantic spleen of "superfluous people" thrown to the sidelines, only in the scenery of "kitchen sink realism" far from any romance, and set off in all serious ways. These pimply puberty deprives strive to take everything from life at once, but they can't get pleasure from their activities: drinking, parties, promiscuous sex, morning hangovers in a mess and a puddle of vomiting. If they struggle with anything, then with their physiology - anorexia, abortion, neurosis, illness and early death. "Children leave, and no revolutions," as the protest rocker shrewdly sang back in the last century, anticipating the weakness and infamy of the current one.
---
"Euphoria"
HBO, 2019—
fighters against themselves
Roux was born three days after the 9/11 disaster and became a disaster herself: antidepressants-drugs-rehab at 17 after an overdose. If in the former subcultures they jumped off a cliff, at least after running up, then in the absence of new ones they simply fall with a hatchet. From depression and loneliness, Ru is rescued by the company of a luxurious firebird, a transgender girl, Jules, who does not look like Ru's classmates. She is not interested in freedom from parental care, which results only in promiscuous sex with alcohol and drugs, but freedom from the imposed ideas of all the same classmates about how one should be or be known. When physical maturity comes before social maturity, "kids" have to solve problems that they themselves have created. Now their frustration and aggression are directed not at the outside world, but at themselves, and Malcolm X is interested in Ru only as a role model in getting rid of drugs - he tears! The circle is closed: the children of former rebels, who have now turned into ordinary people, also rebel - but they only harm themselves.
---
Subscribe to Weekend channel in Telegram