Zakharova: Russia has agreed to extend the grain deal for 60 days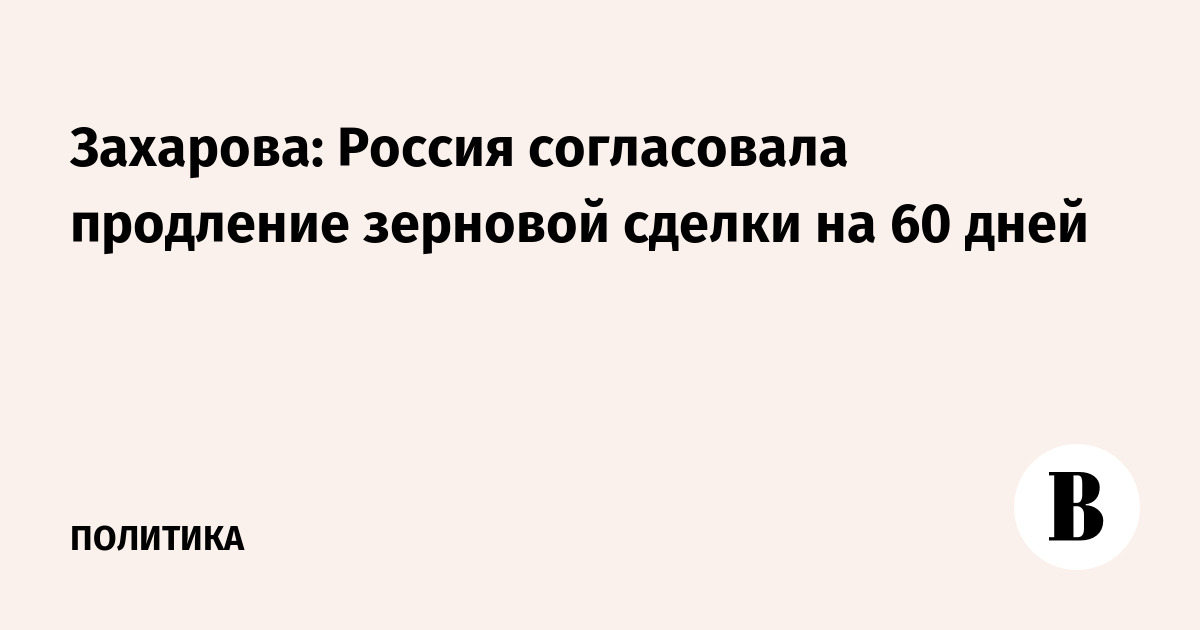 The Russian side agreed to extend the grain deal for only 60 days, stated "RIA Novosti" official representative of the Russian Foreign Ministry Maria Zakharova.
"We see messages from the parties to the grain deal that the deal has been extended for 120 days, we have repeatedly stated – both the Foreign Ministry and Russian representatives to the UN – that the Russian side has notified all parties to the deal that it is extending the deal by 60 days. days," Zakharova said.
According to her, the parties were notified not only orally, but also by special notes. In his Telegram channel Zakharov addedthat "the Ukrainian side, through the Belarusian colleagues, was notified of 60 days, as well as the Turkish side, as well as the UN Secretary General."
Earlier, TASS, citing a statement by Turkish President Recep Tayyip Erdogan informedthat the term of the grain deal was extended. The Ukrainian authorities today also announced the extension of the grain deal, specifying that the Black Sea initiative will be valid for another 120 days. Deputy Prime Minister of Ukraine Oleksandr Kubrakov announced this on Twitter. The UN confirmed that the grain deal was extended, but did not specify for how long.
On March 14, Deputy Foreign Minister of Russia Alexander Grushko announced the extension of the grain deal for 60 days and the confirmation of its package nature. He clarified that negotiations are ongoing, Russia will persistently strive to ensure that all obligations are fulfilled. In particular, we are talking about the lifting of all sanctions for the supply of Russian agricultural products to international global markets.
After that, the press secretary of the President of Russia Dmitry Peskov explained extension of the grain deal for 60 days as a "goodwill gesture" in the hope that the terms of the second part of the deal, related to the export of Russian fertilizers, will be fulfilled.
The grain deal was concluded on July 22, 2022 by representatives of Turkey and the UN, on the one hand, and representatives of Russia and Ukraine, on the other. Separate agreements were concluded with Moscow and Kiev: the first was for the export of Ukrainian grain from three ports, including Odessa, Yuzhny and Chernomorsk, and the second was for assistance in the export of Russian grain and fertilizers. Moscow has repeatedly noted that the second part of the deal is not being fulfilled, including in terms of the free delivery of Russian fertilizers arrested in EU ports to African countries.