The Foreign Ministry spoke about the response to the reaction of Warsaw due to the fall of the rocket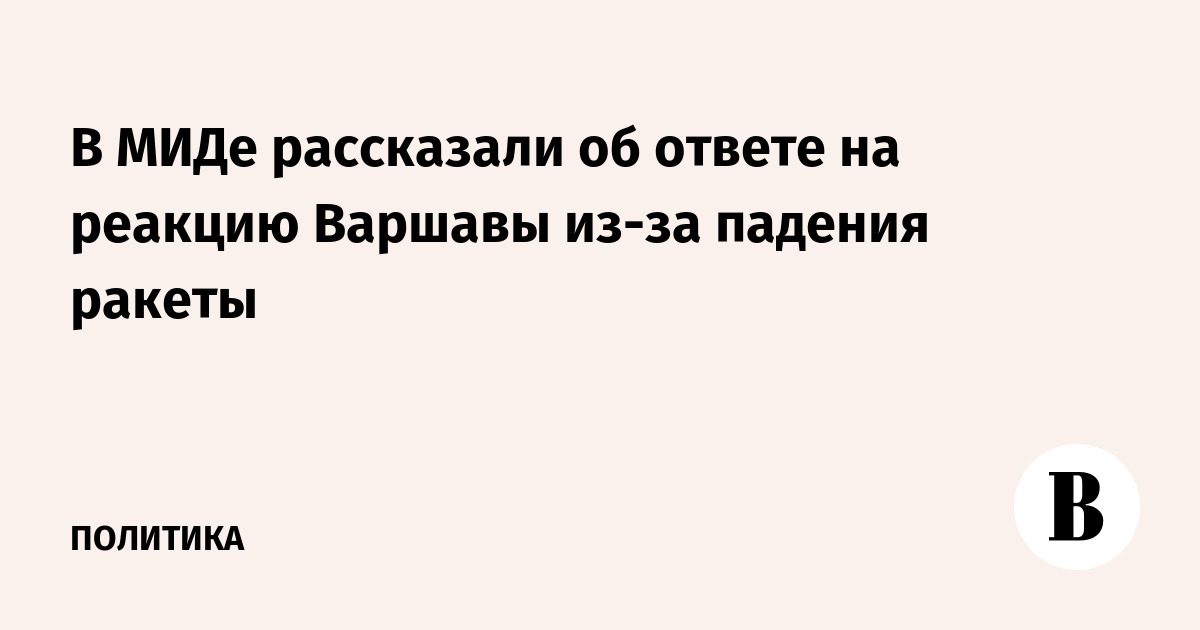 Russia will not take hasty measures because of Poland's reaction to the missile fall on its territory, but will keep it in mind in the future, the Russian ministry said.
"We are not planning to take any hasty measures in this context, but we will take this into account in the general context of our relations with Poland," the Foreign Ministry noted (cit. according to RIA Novosti).
At the same time, the department noted that after exhaustive information about Moscow's non-involvement in the incident with the fall of missiles, Warsaw was forced to admit that what happened "was not an attack by Russia on the territory of Poland." The Ministry of Foreign Affairs recalled that on November 16, Chargé d'Affaires of Poland in Russia, Jacek Szczlyadevsky, was summoned, to whom "a strong protest was made in connection with the intensification of anti-Russian hysteria on another far-fetched pretext."
The incident with the fall of a rocket on the territory of Poland occurred on November 15, as a result of which two people were killed. Against the backdrop of these events, the Polish authorities called an urgent meeting of the national security committee. It was noted that the explosions occurred in the village of Przewodow in eastern Poland.
Later Russian Ministry of Defense reportedthat experts identified the debris in photographs from the missile crash site in Poland as elements of the Ukrainian S-300 missile system. The department emphasized that all statements by foreign politicians and Ukrainian sources about the fall of supposedly Russian missiles in Poland are "a deliberate provocation with the aim of escalating the situation."
Polish President Andrzej Duda, in turn acknowledgedthat there is no evidence that the rocket that fell on the territory of Poland was fired by the Russian military. This version voiced and NATO Secretary General Jens Stoltenberg, who admitted that a Ukrainian air defense missile had fallen.
Subscribe on "Vedomosti" in Telegram and stay up to date with the main news of the economy and business