Sadalsky from the audience intervened in Maksakova's performance with an unexpected remark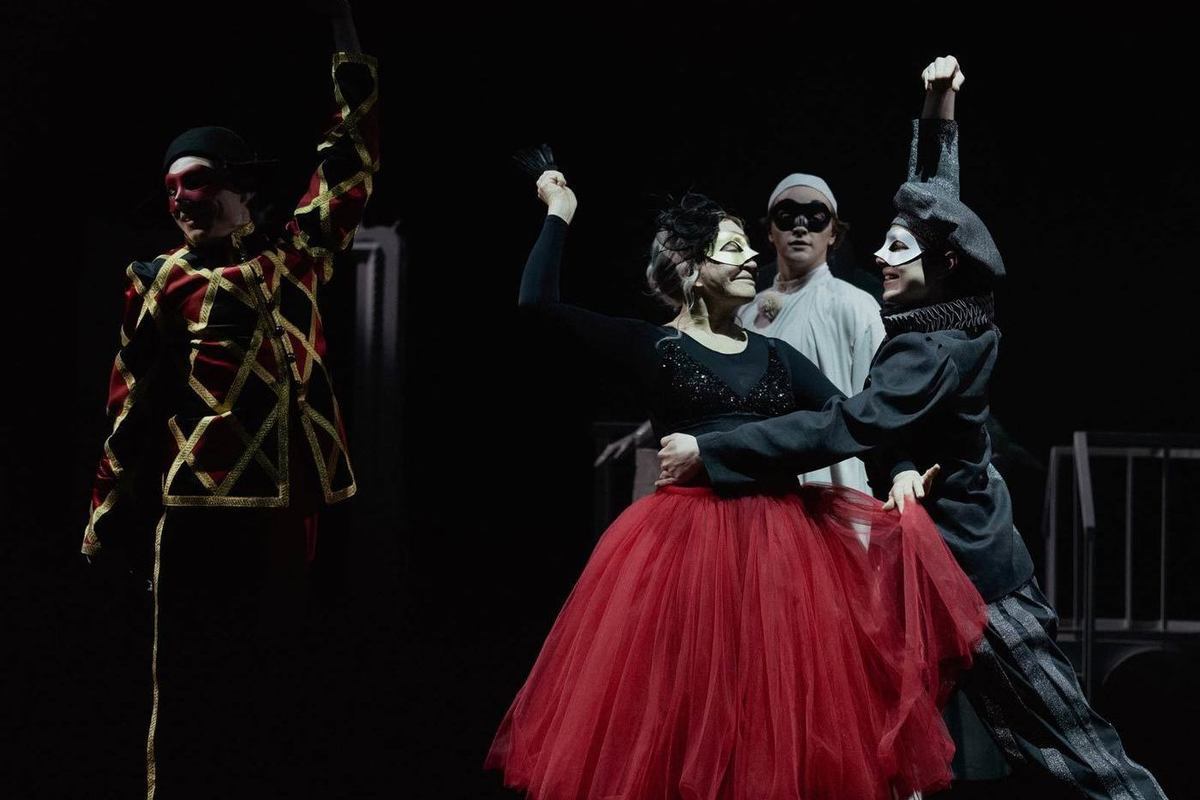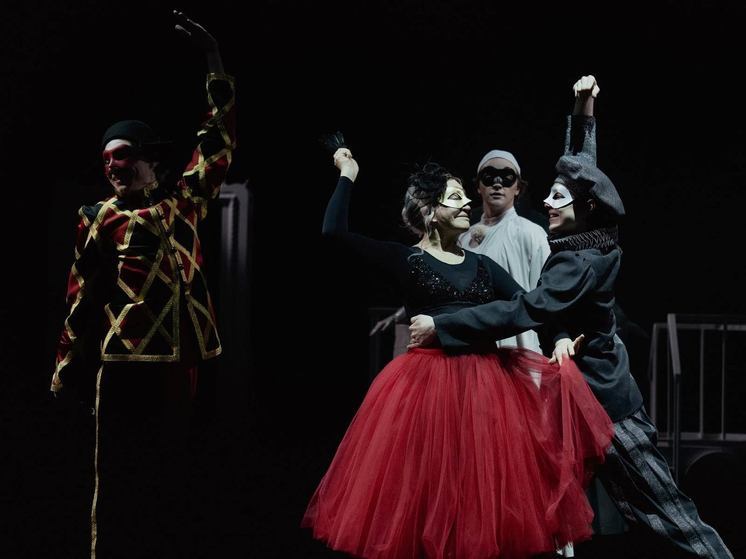 Lyudmila Maksakova in the premiere performance of the theater showed beautiful legs, light jumps and climbed onto a chair without support. The audience, looking at the ideal physical form of the Vakhtangov prima, first went crazy with delight, and then appreciated how the actress's performance corresponded to the first part of the play's title - "The Queen Mother" (staged by Sergei Yashin). Queen as is. With details from the premiere show, the MK columnist.
At first, there was almost an incident. When the heroine Maksakova - Regina - went along the first row with the words: "There is no man who will now give me water," Stas Sadalsky jumped up from the center and, holding out his hand, said fervently: "I will! .." An instant pause, I saw how Maksakova and the three young artists on the stage flinched a little from the impromptu, and a slight bewilderment was heard in the hall. Someone even thought that it was intended that way - after all, Regina addressed, as it were, to the public. But this Yashin definitely was not conceived. To Sadalsky's impulse (is he sincere or from homemade?), Maksakova, without batting an eyelid, answered with her improvisation: "You are an artist, and an artist is a child. Therefore, sit quietly, "and broke the applause. Two acts Sadalsky, not alien to provocation, especially in social networks, withstood without external emotional manifestations, but in the end he could not restrain himself. But his impulse number 2 was already in the final.
In the meantime, in the space of the New Stage there are many white and black colors - black bottom, white top. Above the stage, dressed like a nun in black clothes, hovered: in the depths in the center a white airplane, on the right a balloon with a basket and a steering wheel, and on the left a white shark, whiter than skimmed milk. However, stage designer Elena Kachelaeva still allowed elements of furniture from white plans into the black bottom, denoting the geometry of the production.
In this b/w space lives Regina, a lady of venerable age, walks in black clothes. Responsible for the costumes, Maria Danilova did not violate this range in the lady's toilets. Her fifty-year-old son Alfredo, named after the hero of Verdi's La Traviata, comes to visit her. Here he is in white, with a raincoat, trousers, vest, T-shirt in a warm tone. He came to his mother, as they say, to settle down forever in order, so to speak, to find peace of mind, but she was almost at his doorstep - they say, why did you come, they say, you are disturbing my peace.
The plot of the psychological drama by the Italian playwright Manlio Santanelli (translated by Tamara Skuy) does not bring joy, but, oddly enough, the audience will laugh a lot. Due to what, it becomes clear quite quickly. Before us is an eternal theme: fathers and children in a mother-son combination. I immediately remembered Arkadina and Treplev in Chekhov's "The Seagull", Clytemnestra-Orestes in Aeschylus and Jocasta-Oedipus in Euripides (although the latter is more complicated, but nonetheless) - without old Freud, one cannot understand the grievances and complexes of the closest relatives who physically and morally killed and continue to kill each other. History is ageless, in which there are no winners, victims on both sides.
As a result, but the process... Here is the process described in the Italian play of 1984 as a duel between mother and son. Being deeply lonely, they finish off each other. And it seems that the first word promises harmony and peace ("Mom, I have arrived"), and the second is already a quarrel, not good at all - to the point of frenzy. And simple, everyday things like a suitcase, men's underpants become an occasion to remember old grievances, to reproach, not to miss the opportunity to prick for the past, to strike to hurt.
But how elegant this blow is, exquisite, executed now with surprise, now with innocence. No malice - everything is royally condescending. And this causes laughter, immediately turning into pain. Here Maksakova easily balances on these swings: her mother is amused by playing the queen and immediately suffers from what she has done to her own child. Instant internal remorse, and she shrinks from the cruelty of her son, in turn humiliated by his mother by comparison with his father. Of course, not in favor of the son. And both suffer, but ... Spiritual blindness, complete selfishness? Sadistic tendencies? This is already to the doctor, the writers show.
In the first act, the queen will have a monologue on the topic "how I almost got eaten by a shark": an incredible meeting with the future father of Alfredo. The psychological tension of the previous scenes is effectively colored by the fantasy of a shark (a white inflatable predatory fish is approaching the narrator), but the brave hero dealt that mortal blow and offered the young beauty a hand and a heart.
This monologue is a separate divertissement, where Maksakova demonstrates a truly Vakhtangov game, festively ironic, and incredible physical form: a black swimsuit only emphasizes the lines of a slender figure, long legs, she jumps, climbs onto a chair without support. An actress with great experience, who dared to strip down to her swimsuit, the audience falls asleep with applause. What about a great speech without a microphone? And what about the invisible border, as if it does not exist at all, in emotional transitions? And how does she wear costumes and wigs (a wonderful work of makeup artist Olga Kalyavina)? Finally, the feeling of a partner?
Partner - Vladimir Logvinov - is young, but he is just from that rare breed of the new generation, which clearly has a great future. Very sensitive, internally plastic, ironic, with excellent speech. In addition, he has a rare role - a neurotic hero. One of his best roles is Anatole Kuragin in "War and Peace" by Rimas Tuminas. At the premiere, I remember, the Master said that just for one look at the mortally wounded Anatole, one can safely give an Oscar.
In the second act, the actor has his own answer to his mother - a monologue, and also with fantasies on the topic "how I ate my wife", rooted in where? That's right - in children's complexes. In a duet with such a master as Maksakova, Logvinov, of course, is the second violin with his incurable pain, but he plays the Queen Mother.
Well, in the final, Sadalsky again: after all, he could not stand it on bows, went out to the actors and delivered a heartfelt speech. He also asked Maksakova to speak, but she only modestly thanked the audience: "We are nobody without you."