Rogozin: the Marker robot will be able to hit Western tanks supplied by the Armed Forces of Ukraine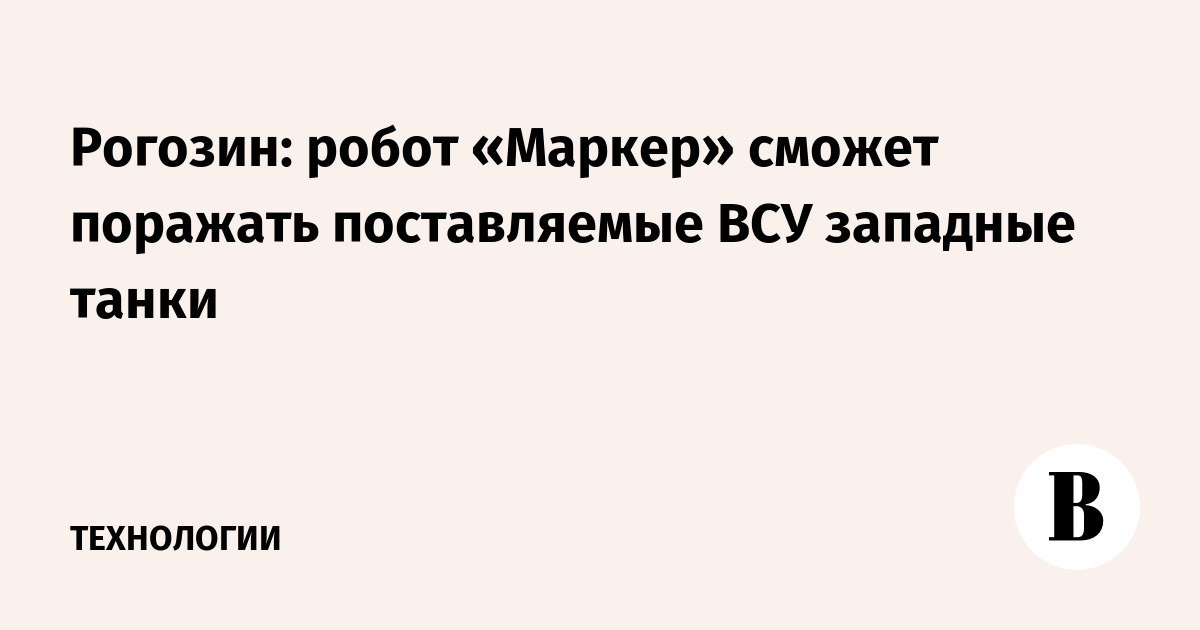 The strike version of the Russian robot "Marker" will be able to automatically detect and hit the Abrams and Leopard tanks, which Western countries decided to supply to Kyiv, declared ex-general director of Roskosmos Dmitry Rogozin in a commentary to RIA Novosti.
According to him, the robot has an electronic catalog with images of targets in the visible and infrared ranges, thanks to which it will be able to automatically determine the enemy's equipment.
"For example, as soon as deliveries of Abrams and Leopard tanks to the Ukrainian troops begin, the Marker will receive an appropriate electronic image and will be able to automatically detect and hit American and German tanks with an ATGM (Anti-Tank Guided Missile)," he said.
The robot is also able to independently determine the priority of hitting targets, Rogozin added. In total, four such robots are expected to be delivered to the Donbass in February, both in reconnaissance and strike versions.
On the evening of January 25, it became known that the United States handed over Ukraine 31 M1 Abrams tanks. It was decided to transfer such a number of tanks due to the fact that 31 M1 Abrams tanks are the equivalent of "one Ukrainian tank battalion". Shortly before this, Berlin announced plans to supply the Armed Forces with 14 Leopard 2 tanks. German-made tanks will come from the warehouses of the Bundeswehr. According to Chancellor Olaf Scholz, Germany will also provide the allies with the necessary permission to re-export their Leopard 2s to Ukraine.
Moscow has repeatedly warned of the negative consequences of sending tanks to Ukraine. Press Secretary of the President of the Russian Federation Dmitry Peskov said that the transfer of weapons would not fundamentally change the situation, but would "add problems" for Ukraine. State Duma speaker Vyacheslav Volodin said that the supply of offensive weapons to Kyiv by Western countries will lead to a global catastrophe. He warned that in such a case, Russia would have to use "more powerful weapons." Russian Ambassador to the United States Anatoly Antonov, in turn emphasizedthat sending American Abrams tanks to Ukraine would be a "blatant provocation", and military equipment would be destroyed by the Russian army.