Pushilin announced the advancement of Russian troops in three directions in the DPR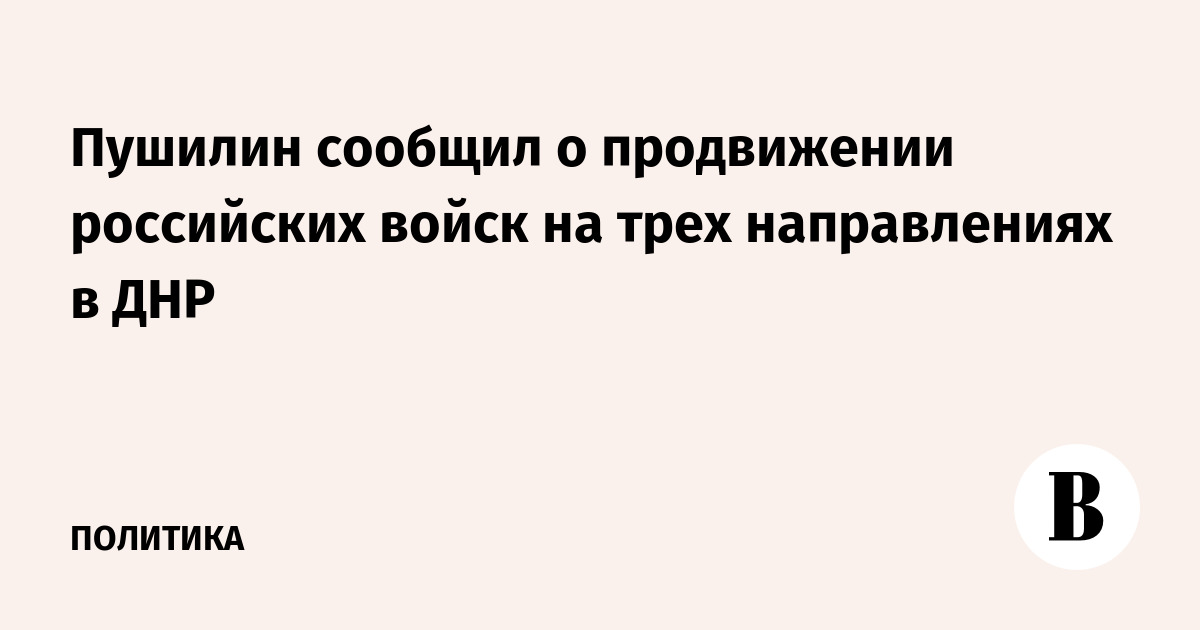 Russian troops continue their offensive in several directions in the DPR. This was announced by the Acting Head of the Republic Denis Pushilin on the air of the Russia 24 TV channel.
"There are advances along the fronts in the Avdeevka direction, in the Maryinsky direction and in the Ugledar direction," said Pushilin (quote according to RIA Novosti).
At the same time, he noted, the Ukrainian military is still close to the cities of the republic and continues to fire at them. According to Pushilin, residents of Donetsk, Gorlovka and Yasinovataya are also suffering. He added that the number of arrivals is not decreasing.
November 22 Pushilin also spoke about the successes of Russian troops in the Pavlovsk and Ugledar directions. According to him, the Armed Forces (AF) of the Russian Federation continue to advance in the area of ​​Pavlovka and Ugledar. Also, November 19, Pushilin informed about the offensive of Russian troops along the entire front line.
November 14 Ministry of Defense stated about taking control of the village of Pavlovka in the DPR. The department emphasized that the Ukrainian military were dispersed by the strikes of the Russian military, as a result, the enemy lost more than 60 military personnel.
Russia's special operation in Ukraine began on February 24. Russian President Vladimir Putin called the protection of the inhabitants of Donbass, as well as the demilitarization and denazification of Ukraine, its goals. During the special operation, Russian troops took control of the LPR, as well as most of the DPR, Kherson and Zaporozhye regions. Subsequently, these territories became part of Russia, and on October 19 martial law was introduced in the regions.
However, on November 9, Defense Minister Sergei Shoigu ordered the withdrawal of Russian troops from Kherson to the left bank of the Dnieper after Sergei Surovikin, commander of the Joint Group of Russian Forces, made a report on the situation in the special operation zone. On November 11, the Ministry of Defense announced the completion of the withdrawal of troops from the city.
Subscribe on "Vedomosti" in Telegram and stay up to date with the main news of the economy and business