Peskov denied Putin's plans during the message to announce the mobilization of the country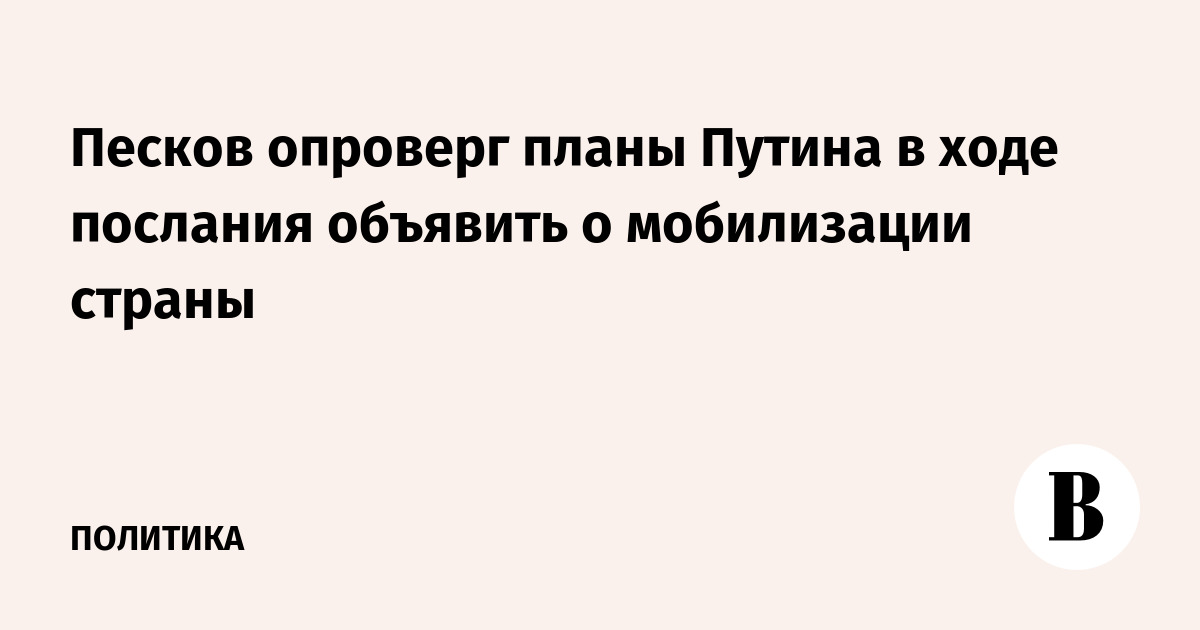 Kremlin spokesman Dmitry Peskov said Russian President Vladimir Putin is not going to announce the mobilization of the country during his message to the Federal Assembly, write "RIA News".
"Media information about Putin's message, which allegedly will announce the "mobilization of the country", is not true," he said.
When exactly the message to the Federal Assembly will take place is still unknown. Peskov has repeatedly reported that there are no exact dates for the President's message yet. November 9 Peskov saidthat an appeal to the Federal Assembly and a direct line with the President of Russia will depend on his schedule, which he described as "very dynamic." Later, he confirmed the information that preparations for these events had already begun.
In the middle of November he answered to the question about holding a direct line and the final press conference, which is traditionally held in December. "The President has not decided on the exact dates for a number of events. Of course, it is illogical to carry them out one after the other. They must spread over time. Probably the most important thing is, of course, the message to the Federal Assembly. After these dates are determined, understanding will already be born on other events, "he said.
In early September, Peskov said that the head of state would make an appeal to parliament before the end of this year, but the exact dates were not specified. Later, information appeared that Putin could make an appeal on September 30 - after summing up the results of referendums in the Donetsk and Lugansk People's Republics (DPR and LPR), Kherson and Zaporozhye regions on joining Russia. However, this information was not confirmed, on September 30, Putin spoke in the Kremlin before signing agreements on the accession of the DPR, LPR, Kherson and Zaporozhye regions to Russia with the heads of these regions.
Putin last delivered a message to the Federal Assembly on April 21, 2021. It lasted 1 hour and 18 minutes. Then the head of state spoke about the fight against the coronavirus pandemic, the socio-economic development of Russia, relations with other countries, and also announced a number of new measures to support the population, including announcing payments to families with children and pregnant women.
Subscribe on "Vedomosti" in Telegram and stay up to date with the main news of the economy and business