Peskov: all Putin's movements in Mariupol were spontaneous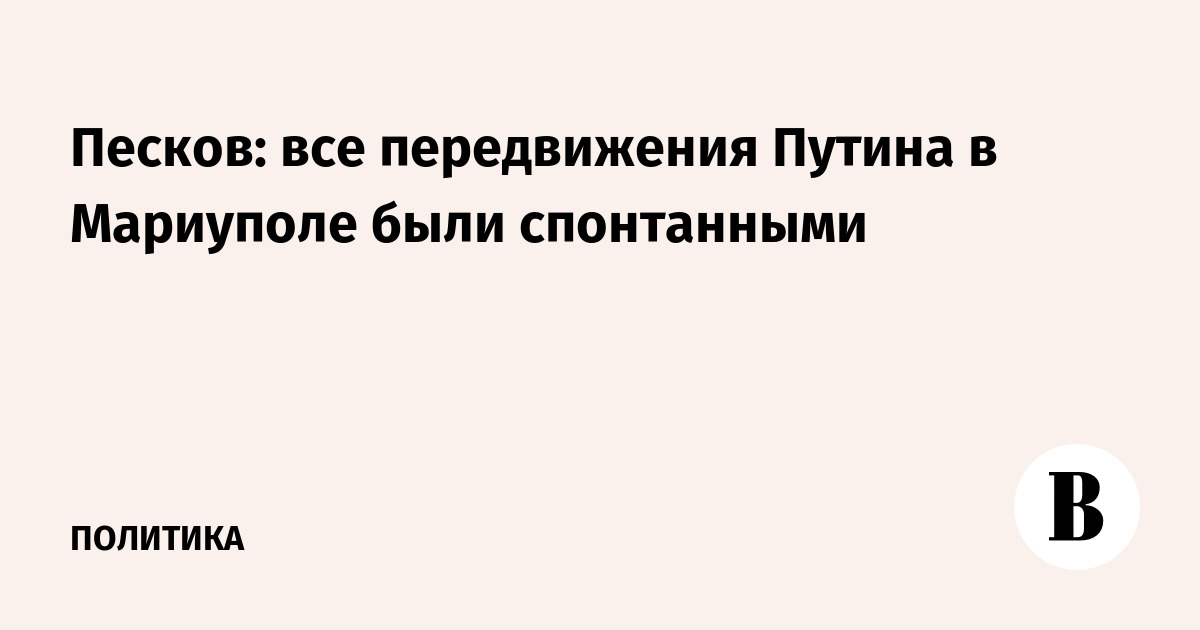 The communication of Russian President Vladimir Putin with the residents of Mariupol, his visits and other movements around the city were spontaneous, press secretary of the head of state Dmitry Peskov told reporters at a briefing.
"Then the president went to Mariupol. Initially, the plan was simply to visit the residential complex. Neither communication with citizens, nor a trip to visit were planned. All this was absolutely spontaneous. Also, spontaneously, absolutely further, the president went to see the stele, looked at the monument, looked at the park, "Peskov said.
According to the press secretary, the rest of the president's movements around the city, including a visit to the Philharmonic, were also not planned.
"This idea was also born along the way. Therefore, in fact, the president had such a full-scale working trip," Peskov explained.
He also assured that "neither through the administration, nor through any special services, nor through the Ministry of Defense" Putin's trip to the headquarters of the special operation in Rostov-on-Don was planned, where the president was in time for one of the reports on the directions. After that, Putin separately "and for quite a long time" spoke with the commander of the Russian grouping of troops in the special operation zone, Valery Gerasimov.
Peskov said that the president drove around Mariupol as he loves to drive. "What is most interesting, returning to Mariupol, there was no motorcade as such, a very compact group of cars, in one of them he himself was a driver. And the cars moved around Mariupol - and the president drove around the city, looked at everything, fully observing the rules of the road, "said the spokesman. He noted that traffic in the city was not blocked because of Putin's visit.
Peskov added that the president's plans include visits to other regions over the next two to three weeks, but did not specify which subjects he was talking about.
On March 18, the ninth anniversary of the annexation of Crimea to Russia, Putin visited Sevastopol, the Kremlin press service reported. The President was introduced to the School of Arts and the children's center "Korsun" near Tauric Chersonese. The Governor of Sevastopol, Mikhail Razvozzhaev, said that the President was supposed to open the Children's School of Arts via video link, but Putin arrived on the peninsula "at the wheel." Later became it is known that the president visited Donbass for the first time, having flown to Mariupol by helicopter.