Orphan cutlet: Olga Orlova's strange food in the hospital woke up rumors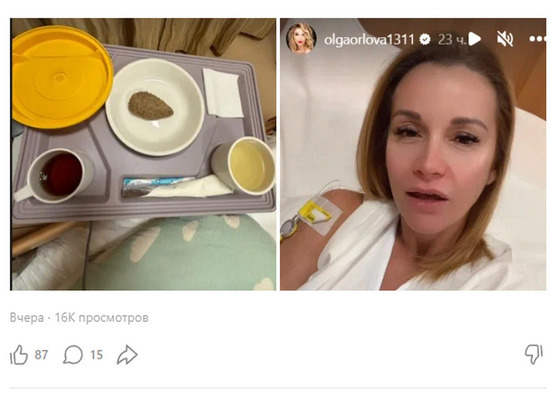 The ex-soloist of the "Brilliant" Olga Orlova at the age of 45 gave birth to a charming daughter Anya - the TV presenter announced this happy event yesterday. The baby's father, Valery, is a businessman. The couple has known each other for three and a half years, married for one and a half of them. Anya is the first common child in the family.
The day after the birth, Orlova recorded a video from the ward, she thanks the fans for their congratulations: "I am happy - and hello to everyone from Anya!" The singer attached a photo of her hospital food, which seemed strange to many. On the plate is an orphan-looking cutlet without a garnish, next to it is tea and a cup of empty broth. Although, it would seem, now the mother of a newborn baby should eat in a much more diverse way.
The picture alarmed those who follow the life of Olga Orlova. Some commentators suggested that the care of the singer is insufficient - but this is clearly not the case, given the wealth of the family. Others began to talk about Orlova's health: perhaps the birth was difficult for her, which is why doctors now keep Olga on a special diet. On her shoulder, by the way, you can see a medical device - probably, the body now needs additional vitamin or medication support.