Ministry of Foreign Affairs assess the prospects for connecting Rosselkhozbank to SWIFT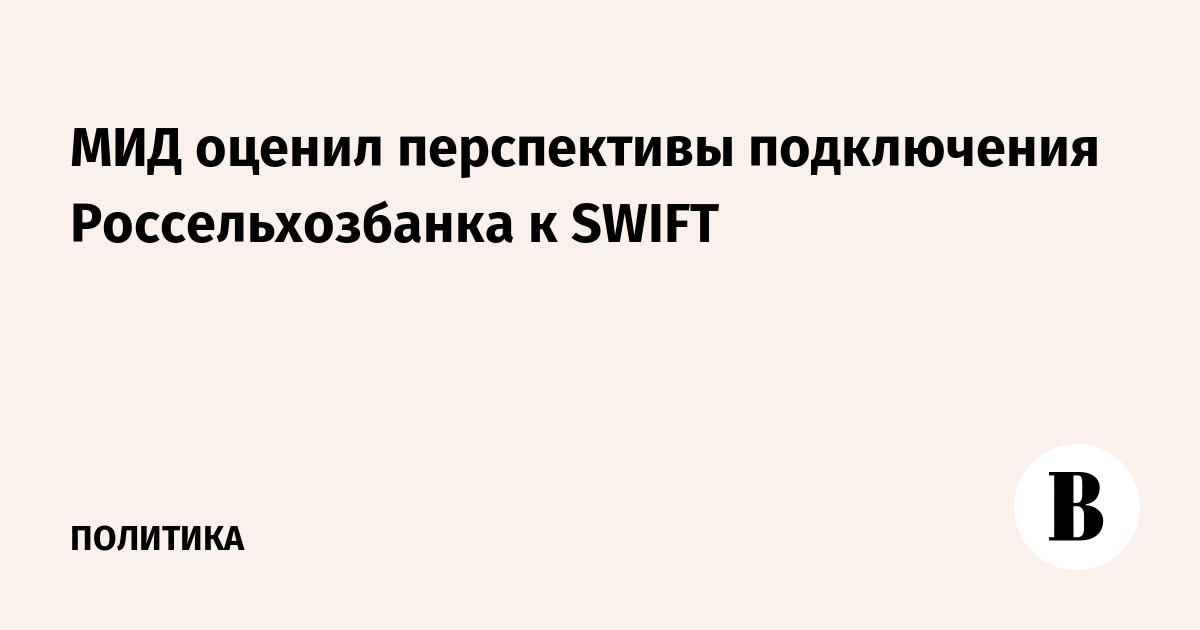 Recent signals indicate that Rosselkhozbank may not be connected to SWIFT, Deputy Foreign Minister of Russia Sergey Vershinin said on the air of Rossiya 24.
"We are talking about transactions when Rosselkhozbank reconnects to SWIFT - this is not the case, and the latest signals that we receive and statements that come from some Western partners say that there will be no such reconnection. So what are we talking about anyway?" - leads his words to RIA Novosti.
Vershinin spoke about other "systemic problems" that Russia identified "honestly and publicly."
"So, it is with these criteria that we will deal at the time of making decisions on the expiration of the Black Sea initiative as part of the Istanbul agreements," he said.
A day earlier at the Ministry of Foreign Affairs of Russia declaredwhat if Rosselkhozbank will not be connected to SWIFT and there will be no progress on fulfilling the conditions of the second part of the grain deal, then it will have to look for an alternative. Thus, the Russian Foreign Ministry commented on Kyiv's demand to expand the grain deal to more ports and more goods, which Reuters wrote about.
On May 17, the grain deal was extended for another two months. The last time it was extended for the same period on March 18. Turkish President Recep Tayyip Erdogan said that Ankara will make every effort to fully implement the deal and extend it in subsequent periods. The Kremlin confirmed the extension of the deal, noting the relative result in the negotiations with the participation of representatives of Turkey, Ukraine and the UN. According to the press secretary of the Russian President Dmitry Peskov, the fate of the deal is in the hands of those with whom the UN must agree on the Russian part of the agreement. The Russian Foreign Ministry reported that it was extended without changes.
The grain deal was concluded on July 22, 2022 by representatives of Turkey and the UN, on the one hand, and representatives of Russia and Ukraine, on the other. Separate agreements were concluded with Moscow and Kiev: the first was for the export of Ukrainian grain from three ports, including Odessa, Yuzhny and Chernomorsk, and the second was for assistance in the export of Russian grain and fertilizers. Moscow has repeatedly noted that the second part of the deal is not being implemented.