Medvedev spoke about the consequences of a real clash of the strongest armies in the world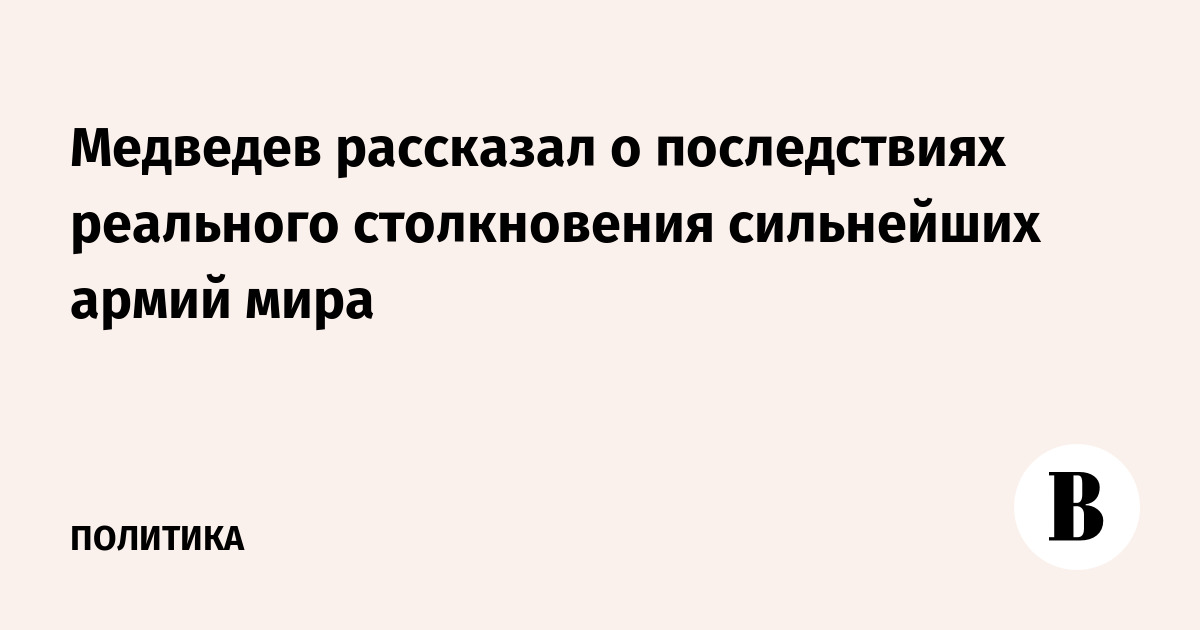 In the event of a real clash of the strongest armies in the world, there will be no winners. This was stated by Deputy Chairman of the Security Council of Russia Dmitry Medvedev during an interview with Russian media. Video recording of the meeting published in his Telegram channel.
"To understand which army is the first, which is the second, which is the twenty-first, is possible only in the process of a real conflict. This time. Second. It is incorrect to say that the American army is the first, ours is the second, for one simple reason. If these armies go to war, how are we going to determine the winner? It is quite obvious that in this case there will be no winner," he said, answering the question of which country's army is the strongest.
According to Medvedev, part of the missiles that can be shot down either over Russia or over the United States "will inflict a guaranteed defeat." "As a result of this, the consequences will be monstrous," he stressed.
The deputy chairman of the Security Council stressed that the goals of the special operation must be achieved in any case. He proposed to create a "sanitary strip" for 70-100 km, which "will not allow firing or using other types of weapons at medium and short distances." Medvedev added that if this is not enough, then other decisions will have to be made. "Nothing can be ruled out here. If you have to walk to Kyiv, then you have to go to Kyiv. If it's to Lvov, then we need to go to Lvov in order to exterminate this infection," he concluded.
Medvedev drew attention to the fact that Russia is now at war not with Ukraine, but with 3.6 million representatives of the NATO army. "They are participating, of course, in a hybrid conflict. But they are participating and, in fact, they no longer hide it," Medvedev added. According to him, Russia is at war with a population of 800 million people, which "supplies equipment, weapons and money to the Kyiv regime."
After the start of the special operation in Ukraine on February 24, 2022, Western countries began to provide military assistance to Kyiv. Russia has repeatedly criticized the actions of Western countries, accusing them of escalating the conflict. On February 21, Russian President Vladimir Putin during his address to the Federal Assembly declaredthat the West is seeking to move the local conflict in Ukraine into a phase of global confrontation. According to him, the goal is to inflict a strategic defeat on Russia.