Mariupol stories - Newspaper Kommersant No. 46 (7491) of 03/20/2023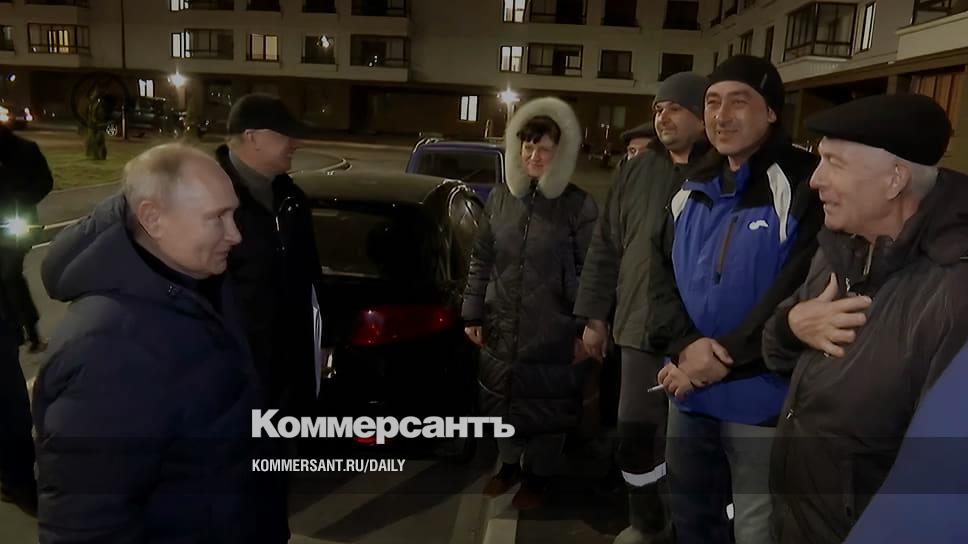 On March 19, Russian President Vladimir Putin visited Mariupol, and Deputy Prime Minister Marat Khusnullin, who accompanied him on a tour of the city, showed how it was being restored. Yes, you can't argue with that. Special Correspondent "Kommersant" Andrey Kolesnikov and doesn't argue.
From Sevastopol, Vladimir Putin flew not to Moscow, as one might assume, but to Mariupol. And after Sevastopol it was another surprise, of course. Yes, impressive.
And after Mariupol, it's worth saying right away, there was also Rostov-on-Don with the command post of Russian troops. The Russian president was met by the commander of the group, General of the Army Valery Gerasimov.
— Comrade officers! - Vladimir Putin greeted the assembled military, despite the early Sunday morning.
This is "Comrade officers!" with an accent and intonation rising on the last word always sounds somehow promising, and it seems that something else outstanding will follow it. But nothing follows, it's just a hello.
During the trip to Mariupol, which was stunning for the security services, Vladimir Putin again sat behind the wheel, as in Sevastopol, Landcruiser and let a truck or a mini-tractor pass (the driver of the Landcruiser was about to turn left) and listened a little absently to the passenger, Deputy Prime Minister Marat Khusnullina.
We are located near the airport. Our building was quite badly destroyed, there were active hostilities, the strip was more or less preserved ... We put it on the plan, we will reconstruct it at the end of 2023. We expect that it will be a full-fledged airport with the ability to fly to all cities of Russia and abroad...
- When? asked the Russian president, who seemed to be watching the road intently, first of all.
Infrequently, he himself recently travels to the city.
- We put it on the 25th year. Because the nearest airport is in Rostov and Taganrog so far ... We use the military one (apparently not so damaged.— A.K.), - nodded Marat Khusnullin. - The airport is actually located on the outskirts of the city, now one and a half kilometers to the highway ...
They were driving, it seemed, in some field just now. Yes, it hasn't happened yet.
"They made a four-lane road from Donetsk to Mariupol, before that it was a two-lane road, in very poor condition, driving at good speed for less than an hour…" the Deputy Prime Minister reported. "And the number one task was to start houses and schools. Last year, out of 1,730 facilities that needed to be launched by the heating season, 1,514 were launched. This year, the task was set to connect all the destroyed facilities to the heating season... 1,829 facilities.
The question may arise, why connect objects if they are destroyed? Apparently it makes sense. This, apparently, is about boiler houses, around which restoration will begin, but in fact the construction of houses.
"These are checkpoints... So far, they are checking cars..." Marat Khusnullin was carried away by the role of a guide (no, they were not stopped. - A.K.). "And here we are building two new microdistricts ... One was called the Nevsky "... Twelve houses are ready... The first batch was built in four months! It's already here people all live! It's very decent!
— Modern! approved by Vladimir Putin.
He waved to someone else. Builders on the road, it seems.
- Very decent! Modern, well appointed! - Marat Khusnullin perked up even more. - Well, you will see everything now! .. This is the ruined shopping center on the right side ... They developed a mechanism. We put up for auction. We decided that let whoever wants to restore and build ... We'll give it back for a ruble! Auction!.. The owners fled to Ukraine...
"It's their business... No one is taking anything away," the president shrugged.
They just destroyed the mall. Either ours or yours. They didn't take it that way, of course.
- Yes, we took it to the budget ... But no one took it from them! - Marat Khusnullin warmly agreed. - If they want - let them return ...
Apparently they don't want to.
- We register everyone who comes with their rights! Marat Khusnullin assured.
No, it was impossible to distract from the thought of where it all happened. It was all in that same Mariupol.
Vladimir Putin turned around and drove back, apparently to turn right off the road.
We entered the territory of a new microdistrict.
- Live? the president asked doubtfully, looking around.
Yes, so far I haven't had that impression.
— They live! And very active! - Marat Khusnullin assured him. - They rented it out with repairs!
The Deputy Prime Minister added that it was not visible from here, but over there they rented a room for 9,000 (square. - "Kommersant") meters, and now there is a department of the Ministry of Emergency Situations, which has a lot of work, because mine clearance is underway, 500 people are working.
That is, they are building in one place and clearing mines in another at the same time.
But Marat Khusnullin assured that the demining work is close to completion.
- Warkout, a playground, and in front of us is a school. With swimming pool! - said the Deputy Prime Minister.
I was interested in whether bomb shelters were provided, but he did not say anything about this.
We went to the playground. A small presentation with albums.
Everything is very clearly visible. Where we were advancing, there were no shell strikes at all! - said the vice-premier. - From their side - they hit the houses with direct fire with tanks. I'm telling you as a builder. There was no need to beat (that is, apparently, there was no need, according to Marat Khusnullin. - A.K.) ... They simply destroyed houses.
We didn't take a single person away. We managed to leave all the people here. Not a single person left Mariupol! - at some point, the vice-premier stated.
It was kind of weird already.
Even Vladimir Putin was surprised.
— No, I mean those who wanted to stay. All remained! .. And here is the first hospital, which we were engaged in. There was…" the Deputy Prime Minister shook his head. "Do you know what they were doing? They even mined the corpses so that we would not remove them ... We did everything. Volnovakha has been practically restored... Do you remember when a shell hit the maternity hospital? Four months - and here is the perinatal center! It's in this state.
— Is it already in Donetsk? the President asked.
- In Donesk. But in Mariupol, the Philharmonic and the Drama Theater ... On April 15, the theater is ready to give the first performance ... Yes, not far from here ... - Marat Khusnullin looked at Vladimir Putin with interest.
He was waiting for this question.
It was clear where to go next.
But first at one entrance of the president, it turns out, people were waiting.
- Not expected! Can I at least say hello to you? one of the residents exclaimed.
Well, I didn't expect that.
We only saw you on TV! - added, apparently, a neighbor.
"Well, you should start getting to know each other better," Vladimir Putin supported. "Do you live here?"
They vied with each other:
- Yes Yes...
- Like? the President asked.
There was something to be asked...
- Certainly! Thank you! .. By the way, 15 days after your birthday, I have mine! Also 70. But left without anything! one neighbor burst out.
"Now there is everything," the girl to the left of the president corrected him.
- Thank you for the victory! .. - came from somewhere from the side.
- I'm sorry, what? — asked Vladimir Putin. — Come here!
Such people could not be superfluous here.
- You hold on, - said this woman. - Good luck to you! God bless! We are praying for you... Wait...
- Like? the President asked again, this time to her.
- What did you say? the woman asked him again. "Ah... I like it!" This is a little piece of paradise we have here now!
Yes, everything here was, of course, hell a few months ago. She meant, unintentionally, that besides this place, it still certainly wasn't even purgatory.
— We will expand... — said Vladimir Putin.
- We will! The woman readily agreed.
But why was it so desperately sorry for these lucky ones?
With another peer of the president, they went into the apartment. "There were three rooms, and they gave three ..." Here the bread was already prudently sliced, and the sausage. Didn't eat, though.
We went to the theatre. Vladimir Putin braked on red. The traffic was brisk.
- From the positive, - continued dear Marat Khusnullin.
What have we heard before then? It became even more interesting.
"The yacht club is more or less preserved," he reported.
And this is true joy.
- The embankment, two and a half kilometers, has remained - with places for recreation, with jogging tracks ... - added the Deputy Prime Minister. - There is a development plan, a good design project, we help in the main places of worship, we work in several churches .. Today I was at the church and the mosque, the services are going on…" the vice-premier reported.
- Where is it? the President asked.
"Where is the park located… Directly by the sea… Lighting was completely restored… There was no lighting at all," the Deputy Prime Minister continued, and it was true: we moved into the illuminated area. "Now we are working on creating jobs." ... They painted every industrial enterprise (It is unlikely that this applies to Azovstal. - A.K.). By the summer we want to launch the first tram route... The city center is very broken (Yes, and in general. - AK)... Very beautiful, actually. We will now pass...
To the left was a burned-out building. One. Second. Go right to the theatre. Really restored. Yes, fantastic times.
Vladimir Putin walked around the lobby. Sat in a chair. It seemed to be very soft.
Let's go to the airport.
"The climate here is also good," said Marat Khusnullin.
— And the sea? Vladimir Putin asked.
- And the sea is on the left side.