FT: Traders' losses in case of gas price cap will amount to $33 billion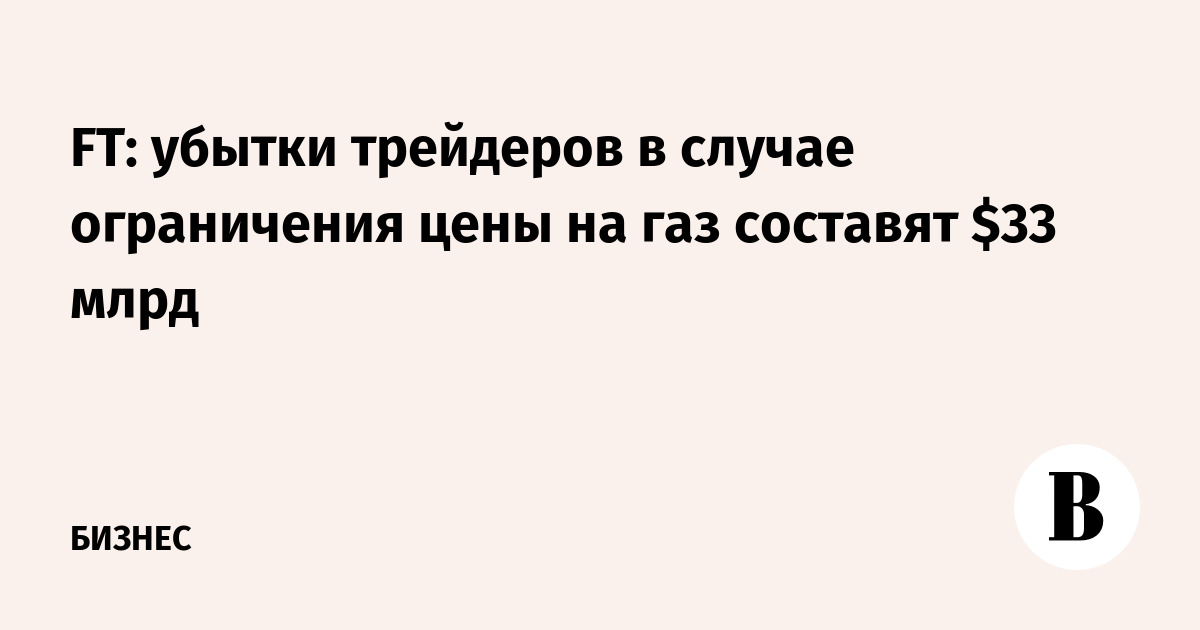 If the EU countries approve the introduction of a cap gas price, traders will suffer losses in the amount of $33 billion, informed The Financial Times newspaper, citing data from the London ICE exchange, which were sent to the European Commission.
"Energy traders will have to contribute an additional $33 billion in margin payments if Brussels' plan to cap the price of a key European benchmark gas goes through. <...> Producers and traders who rely on the Dutch TTF futures market will face an 80% increase in the payments they make as insurance to secure their trades. It is clarified that as a result of this, the market may be destabilized.
22 November European Commission suggested set a price ceiling for the monthly gas futures on the TTF hub index at 275 euros per MWh. According to the proposal, the mechanism will start automatically when two conditions are met. First, the price of gas exceeds 275 euros for two weeks. The second is if the TTF price is €58 above the LNG base price for 10 trading days. The press service of the EC writes that this mechanism can be activated from January 1, 2023.
After that, the Financial Times informedthat the EU countries are dissatisfied with the European Commission's proposed restriction of prices for Russian gas at the level of 275 euros per MW / h, or about $ 2,800 per thousand cubic meters. m. In their opinion, such a ceiling is "too high." In particular, in August, gas prices on the ICE exchange soared above 300 euros per MWh after Nord Stream supplies were cut off, but they stayed at this level for only a week.
According to the publication, the proposal will be submitted for discussion today, November 24, but the final decision on this issue should not be expected until December 19, when the next meeting of EU energy ministers will take place, writes the Financial Times.
Speaking at the forumRussian Energy Week» On October 12, Russian President Vladimir Putin once again stressed that energy supplies to those countries that approve the price ceiling would be cut off. Before that, he repeatedly said that the introduction of restrictions would lead to an increase in energy prices. During the Eastern Economic Forum (EEF), Putin said that the idea of ​​imposing a price ceiling on energy resources is "nonsense and nonsense."
Subscribe on "Vedomosti" in Telegram and stay up to date with the main news of the economy and business