Directly from Qatar: a Kaluga woman told how she became a World Cup volunteer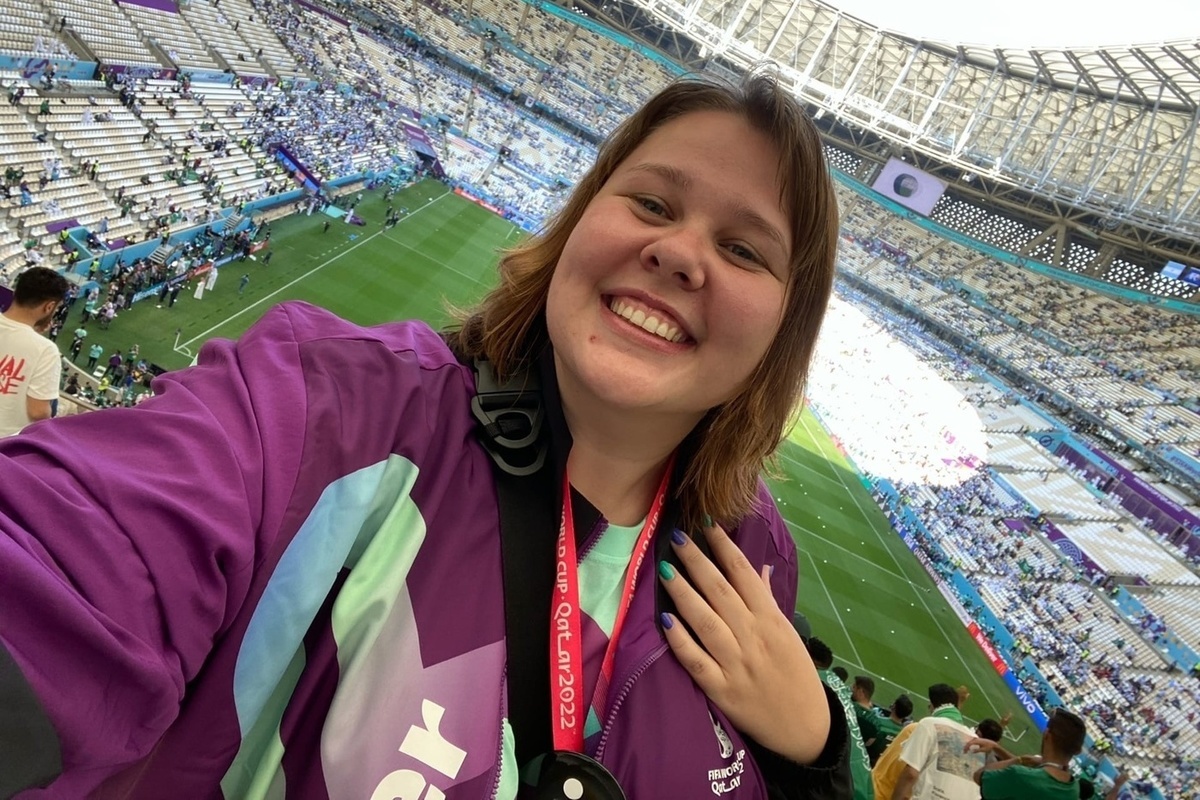 A resident of the Mosalsky district of the Kaluga region, Justina Golopolosova, told how she became a volunteer at the 2022 FIFA World Cup, which is currently taking place in Qatar. Correspondents of "MK in Kaluga" managed to find out all the details from the girl. Read in our interview.
Justina, tell us how you managed to get to such a large-scale event - the 2022 World Cup as a volunteer?
I have been volunteering for a long time, starting from school. There were different directions. Then she stopped at sporting events. I have already had the Paralympic Games in Rio de Janeiro, Formula 1 in Sochi, the Winter Olympic Games in South Korea. I didn't manage to get to the World Cup in Moscow, as I had a diploma at the university. Therefore, at that moment I already thought, maybe go to Qatar. Four years have passed. I got a job, I didn't volunteer. Then in the spring they sent me a newsletter, I was subscribed to the news of Qatar. It was about recruiting volunteers. I decided to try. Well, let's go, maybe I'll go. Application is standard. In general, they are all similar. You need to pass a certain test, tasks for knowledge of the English language, for understanding volunteering. And I passed. I was called for an interview. It was May 9, I remember. Standard interview, as for all events. It was a group. The conversation went on for about an hour. We were told that 5,000 foreign volunteers would be taken away. The rest will be local. It was also in Korea. Then there was some crazy competition. A lot of applications have been received. I then thought that, probably, they would not take me. Only 5 thousand is very little. And I completely forgot about it, I was even going to Mongolia on vacation. And then in August I received a message that they were taking me. I was very happy.
By the way, a very interesting selection turned out by gender type. I won't name the ratio, that is, I won't name the exact percentages, but if we round it up, then we have approximately 80% of men and 20% of girls. A lot of men from Arab countries, as well as Hispanics. A sufficient number of Russians, and you know, I meet very few Europeans. We - girls, even unusually, we are always let out of the queue. This cannot but rejoice.
What is your function at the World Cup? What do you do?
I specifically chose the role in the service for the audience, because I wanted to get into the stadium. So I can watch matches. I usually worked in the media center, it was not always possible to plunge into the atmosphere of the event. Here I wanted to feel the scale of the event. Therefore, I chose this function and they put me in the Al-Bayt stadium, where the opening took place. In addition to the opening, 8 more matches are planned there. We help viewers, answer their questions, help find their seats. In general, the work is not difficult, but physically difficult, because you are constantly on your feet. If someone has become ill, someone has lost something, or some unpleasant situations, we must respond. In general, we present a service for viewers. And when the task is completed, we watch the match, I think it's perfect.
Who are you rooting for in the Championship?
I'm not really that much of a football fan, I'm more into Formula 1. But in general, I support Serbia and Brazil.
The 2022 FIFA World Cup is the 22nd FIFA World Cup. Its final part runs from November 20 to December 18 in Qatar. There is no Russian national team at the tournament due to events in Ukraine.