Cuban woman released from Russian prison found herself in a desperate situation: "I'm starving"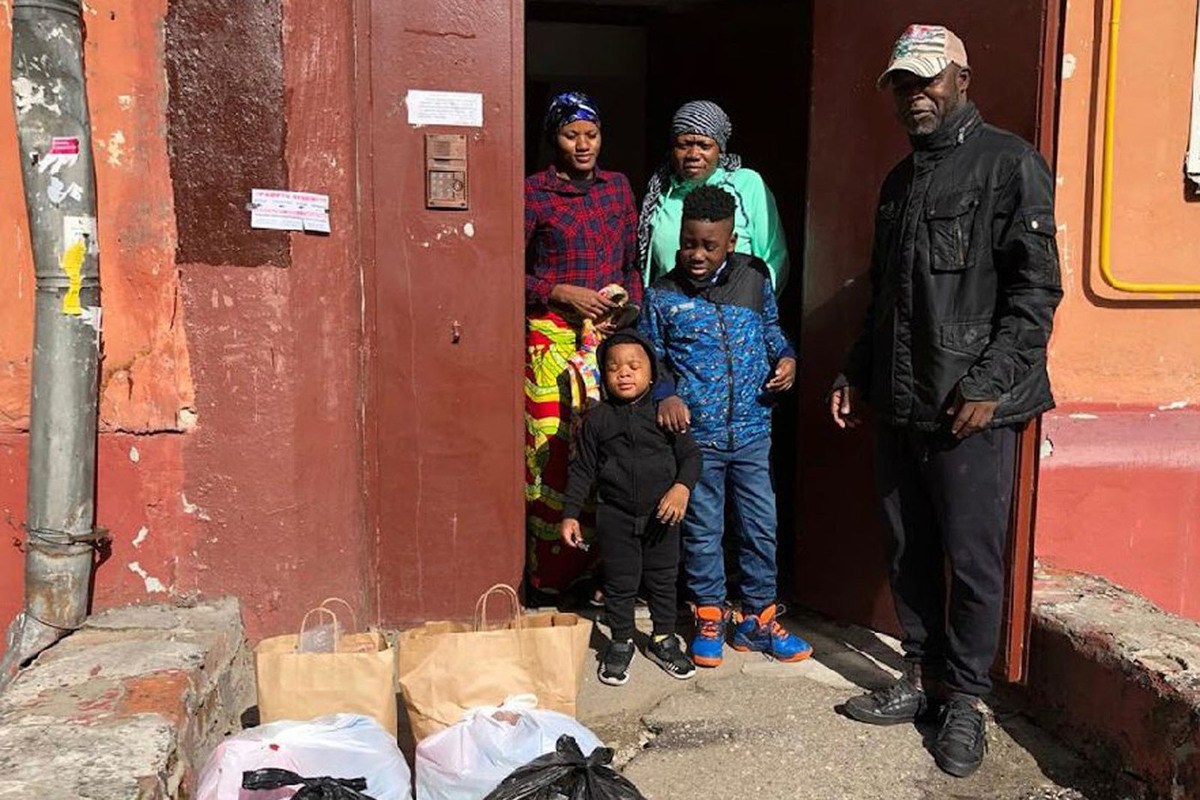 The heroine of one of the MK materials, which our observer, as a member of the PMC of Moscow, found in a pre-trial detention center, is already at large. Alejo Avile Estefani she did not go home, but remained in Moscow, she is raising her daughter, who was born behind bars. Recently, the ECtHR declared illegal the long-term detention of a Cuban woman in custody and awarded her 3.5 thousand euros. However, Estefani will not receive this money.
How the former prisoner lives after her release and what awaits her fellow countrymen who are still behind bars - in the material "MK".
To date, almost 80 Cuban citizens are in Moscow pre-trial detention centers. Most of them got there for possession and distribution of drugs (Article 228 of the Criminal Code of the Russian Federation) and theft (Article 158 of the Criminal Code of the Russian Federation). But there are also those accused of robbery, kidnapping, and even one - for driving a car while intoxicated (Article 264.1).
Two Cubans suffer from oncology, and the days are counted. After the publication of them in our newspaper, one was taken to the hospital, the second is promised to be sent for treatment any day. But in general, the problem with the treatment of Cuban citizens has not been resolved, and it is not known whether it will be resolved.
However, it is hard not only for the sick, but for everyone. No one gives parcels to Cuban prisoners, representatives of the embassy rarely visit them (most of them have not even been seen in person).
"I would like books in Spanish and some clothes," another Cuban complained in front of us to the only employee in the UFSIN system who knows Spanish.
Ignorance of the Russian language is like death for many Cuban prisoners. In the cell, they cannot explain anything to their neighbors, and during checks and walks they do not understand what the employees want from them.
"Despite the fact that they themselves are calm and trouble-free," says a prisoner in SIZO No. 5. - I was in different cells, there were Cubans everywhere. Very sorry for them. We try to feed them. But you know what's interesting? Some make it clear that in prison it is even easier for them in this sense, but in the wild they were starving.
Estefani's story is proof of this.
Let me remind you that in September 2019, 24-year-old Cuban Alejo Estefani got into the women's pre-trial detention center No. 6. A thin, beautiful brunette was detained in a store when she paid for groceries with someone else's bank card. And although Estefani assures that she found the card, she was charged with art. 158 of the Criminal Code of the Russian Federation "Theft".
The investigation considered the damage significant - the Cuban earned as much as 13.5 thousand rubles of food, which was simply explained: the family is large, there are three adults (Estefani herself, sister and mother) and four children.
We have already talked about how Estefani got to Moscow in general. In a nutshell, her mother in Cuba sold the house, but she couldn't buy a new one (the money was "spent"). And so the whole family went to a country where, as they taught at school, it is easier to achieve a brighter future. Already upon arrival, Estefani understood what "Moscow does not believe in tears" means. It had to be hard. Well, then there was a story with someone else's card ...
In the pre-trial detention center, Alejo found out that she was pregnant. Decided to have an abortion. Thanks to Anna Karetnikova, an employee of the Federal Penitentiary Service, they found a translator, then contacted the mother and began to persuade her to keep the child. Alejo agreed and gave birth to a wonderful girl in 2020.
After an article in MK, Svetlana Gannushkina, the chairman of the NGO Civil Assistance (recognized as a foreign agent in the Russian Federation), found out about the young mother and her daughter. As a result, Alejo got lawyers and a translator. The damage caused by the woman was repaid. And yet the court kept extending and extending the arrest. Finally, in February 2021, the sentence was announced - two years in prison. The woman was released right in the courtroom, since she had already served this term in a pre-trial detention center.
Since then, nothing has been known about Alejo. And it turned out that she stayed in Moscow. Thanks to volunteer translator Anna Voronkova, we managed to find her and talk to her.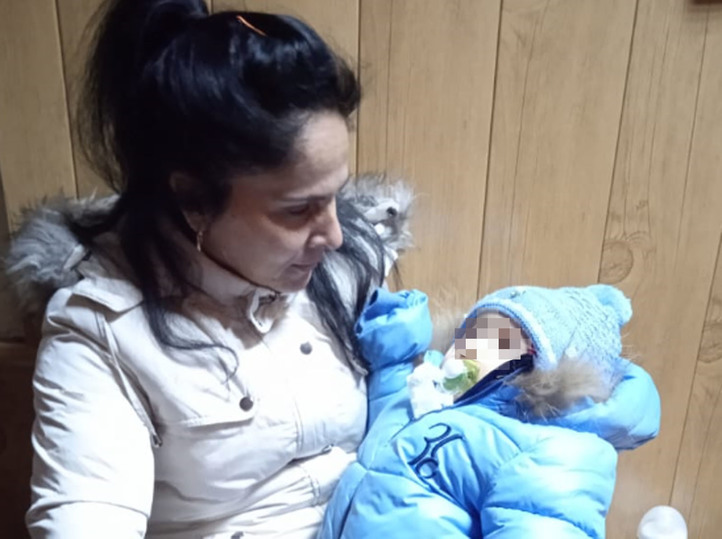 A tiny apartment in Lublin, where Estefani and her sister have only one room (the girls' mother returned to Cuba in January because she needed emergency treatment). Estefani sleeps with four children in one bed. The atmosphere is spartan to say the least. Refrigerator is empty. From food - only bread, milk, salt and sugar (in the pre-trial detention center it was definitely more satisfying).
"In prison, I learned how to cook soups, including borscht," says Alejo (translated by Anna Voronkova). - And in general, now I can cook anything from those products that I have.
What can I tell you about prison? It was normal in prison, everyone treated me with understanding. But I never left the cell and felt bad all the time - I felt sick. Only then did I realize that I was pregnant. When I gave birth, I was transferred with the child to a special cell where mothers with children (there are better conditions, there are cribs, strollers, the walls are painted with flowers. — Approx. ed.). I did not regret leaving the child. Look, this is my "prison" girl. She is already two years old.
Alejo says that they live in a room that their sister pays for. It is she who works mainly (she works as a cleaner in a supermarket, the rate is 1000 rubles for 11 hours, but even an intermediary takes a percentage of this money). Alejo also sometimes tries to earn extra money, but with four children it's difficult, the oldest of them is 8 years old (three kids are relatives, one is a sister's child).
"Life in Russia is very difficult for foreigners," the Cuban continues. - I realized that I need to go here alone and not for long. My children do not go to kindergarten or school because we do not have registration. And I would really like them to develop normally. The eldest daughter is 8 years old, it is time for her to learn to read and write. I can't vaccinate them because there is no policy.
Citizenship for children born in the Russian Federation is not granted automatically. We were offered a private school (it was opened by a Cuban teacher), but it costs 17,000 rubles a month. Where does such money come from? We just recently got some clothes.
"One fund recently offered her to come and pick up things," says Anna Voronkova. - And with the last money, Estefani went to the other end of snow-covered Moscow in a short autumn jacket, without a scarf, mittens and a hat. But there she was given a long down jacket, as well as warm jackets and pants for all four children. Well, even bed linen, soap. They also gave her a suitcase on wheels to put it all.
If you saw how they bought one pie for two with another Cuban and how they ate it ... By the way, we had to accompany them home. The police are now especially carefully looking for Cubans, knowing that they have something to profit from.
Estefani says that she learned to speak Russian in the pre-trial detention center, and some funds ask for a written application for products or a preliminary interview. Plus, not all food suits them. Buckwheat, for example, is a useless product for them (Cubans, like many other foreigners, do not eat it). Chicken, rice, bread, onion, garlic, tomato paste - this is the minimum food set that you need.
His sister is leaving for Cuba soon, so Alejo will be left alone with four children. How will she survive? Honestly, I don't even know. The young Cuban says she will try to work. But where will she take the children? She cannot go to Cuba with them - the ticket costs around 150 thousand rubles, that is, they all need more than half a million.
"And there is famine in Cuba, you can't even get milk," she cries. What mother would take her children to starvation? Yes, we have no money, but you have five types of milk in stores.
Translator Anna tells Estefani that the ECtHR granted her claim. The European Court acknowledged that she was unreasonably detained for too long, that the investigation was conducted for an extremely long time, that being in a "cage" in court is torture.
"The ECHR ruled to pay the Cuban 3,500 euros," says lawyer Roza Magomedova (it was she who prepared the lawsuit in Strasbourg). But alas, she will not receive this money. Russia has not paid ECtHR claims since March 16. When the news about the won court was announced, Alejo was terribly delighted - at least for the very fact. True, that day she was very sad, because she did not even have money for water, not to mention bread.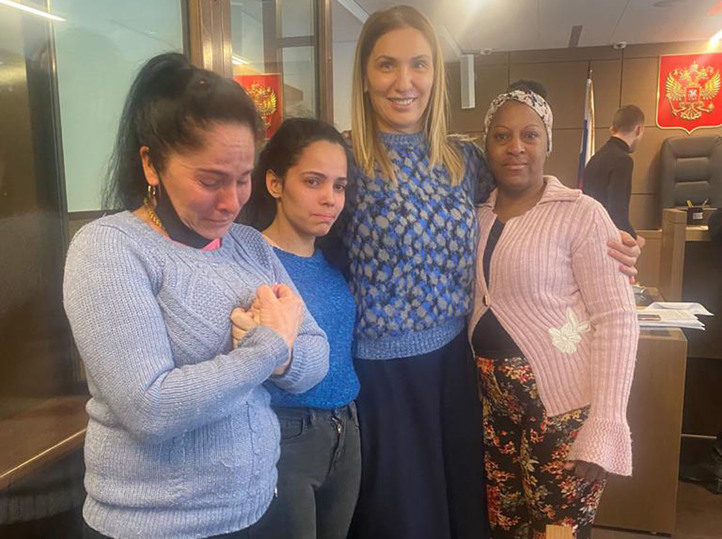 Hundreds of Cubans live in the South-Eastern District of Moscow, who are also trying not to starve to death. They were all hostages of the situation. They can't leave, because ticket prices have increased significantly. And they began to pay less for work on construction sites - now the rate of 2 thousand rubles for a 12-hour day seems very good to them.
Moscow was filled with Cubans even before the pandemic. They traveled here using the visa-free regime. Basically, they went on a journey to bring cigars and rum for sale, and to buy back various cheap consumer goods and products. Only a few remained. But every month there were more and more people who wanted to work in Moscow. Men work at construction sites, women work as cleaners and prostitutes. They concentrated in the Lyublino area, because there are warehouses and a market, it is easier to find work.
Local residents willingly rented out apartments, because, in principle, Cubans are quiet, and in which case you can tear three skins from them (they won't complain to the police). More and more often, Cubans at construction sites began to be "thrown". And the police realized that they had found a real gold mine in their face. It cannot be said that all criminal cases against Cubans are fabricated. But the fact that they are being investigated very badly is a fact. Most Cubans do not have money for a lawyer, and the embassy does not provide one.
- "Cuba - my love ..." - a Cuban prisoner sings in terrible Russian.
He tried to commit suicide, but the staff rescued him in time. And after talking with a knowledgeable Spanish representative of the Federal Penitentiary Service, the foreigner completely changed his mind about taking his own life. I decided to learn Russian behind bars and get acquainted with Russian traditions. He hopes that he will come out and open a Russian-Cuban restaurant. It seems fantastic, but who knows?