Artificial requires sacrifice - Newspaper Kommersant No. 219 (7420) dated 11/25/2022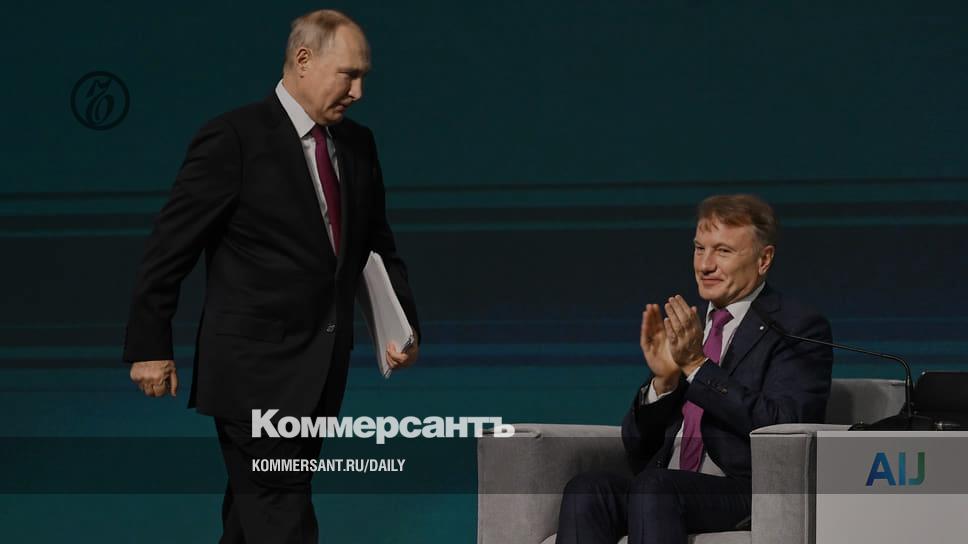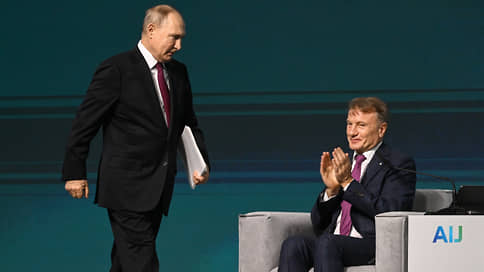 On November 24, Russian President Vladimir Putin took part in the Sberbank conference dedicated to Journey into the World of Artificial Intelligence. Special Correspondent "Kommersant" Andrey Kolesnikov together with the Russian president, he plunged into the world of artificial intelligence and emerged only two hours later transformed, with a new understanding of meanings and shades.
The Sberbank conference took place at the World Trade Center and gave the impression of a chamber one. That is, there were few participants - not only offensive, but strange.
However, Mr. Putin did not think so:
"Somehow they put you quite far away," he said, entering the hall and looking around in a large and dark room.
Thought claimed to be a generalization of the geopolitical level (but only claimed).
Yes, everything did not look so intimate from his seat, and it was not easy to see the participants, and when the Russian president invited the governor of the Moscow region Andrei Vorobyov to speak, it seemed to mean that the president of Russia would recognize the governor of the Moscow region even by the outlines of his face and figure .
The meaning of the meeting was explained by the head of Sberbank German Gref, but in such words that it would be better not to:
"International agencies called customization the trend of this year," he explained.
"Trend", "customization"... Well, he did explain:
"This is a very simple application of industrial artificial intelligence: artificial intelligence has become a very affordable technology for use even in small companies.
"Customization" until now, it seems, was considered the individualization of mass products for specific orders, but it could also be so: it's still beautiful.
German Gref said that artificial intelligence had already captured some regions, and Moscow was so easily crushed under him:
Moscow has made huge strides forward in recent years. It is probably even hard to say in which of the directions there is more: transport, health care, all social services, and, in fact, work with the population! The work of the city administration itself has been transferred to completely different tracks!
He praised the artificial intelligence of the city so much that it was not even very clear what the natural one in the form of Moscow Mayor Sergei Sobyanin was doing here. Not only in order to keep talking with Andrei Vorobyov all the time.
German Gref said that competitions in artificial intelligence (and not "with artificial intelligence") are held annually at Sber conferences:
– This year, at the competitions, it was proposed to solve four problems, quite difficult problems – we are gradually complicating the tasks for the participants of the competition – and more than six thousand solutions were proposed. One such challenge is the FusionBrain Challenge 2.0. This is the creation of the foundations of strong artificial intelligence, the creation of a grid that could solve twelve diverse tasks.
Well, the more enigmatic German Gref expressed, the more pleasure it was to listen to him.
He added that five leaders in the field of artificial intelligence were invited to the conference. Oddly enough, they were people, and young ones at that.
The speech of Vladimir Putin himself lasted almost an hour. And do not remember in which audience he would speak for so long. Even the substantiation of all the goals and objectives of the special military operation (SVO) at the end of February of this year took him less time.
"The significance of breakthroughs in the field of artificial intelligence is colossal," the president said, "the rivalry between states is fierce. The place of Russia in the world, our sovereignty, security and viability of our country depend on what results we achieve...
There is obviously no more hope for NWO in this sense. We all begin to rely on artificial intelligence.
It turned out that "an alliance of companies in the field of artificial intelligence has been created. On his initiative, ethical principles for the development and implementation of this technology have been developed. More than 120 participants have already joined the relevant code of ethics."
- When did we talk, German Oskarovich, about creating it? the President was concerned.
"Two years ago," Herman Gref reminded.
"Here, two years ago!" — Vladimir Putin perked up. — And I am very pleased to note that this alliance is working... I will mention it several more times in my speech... It works well! It should cover all sectors of the economy, the social sphere and the public administration system. German Oskarovich and I, when he was still working in the government, kept saying that this was German Oskarovich's strong point when he talked about the need to move to a new stage of management in general, in general!
And Vladimir Putin himself, by all indications, was imbued with the idea of ​​​​artificial intelligence. And shouldn't they eventually end up looking for, for example, a successor?
Indeed, relying on people is an unreliable and ungrateful occupation. However, where artificial intelligence will lead is not at all clear. But, on the other hand, it won't get any worse.
Meanwhile, Vladimir Putin at some point clarified his position on this matter.
- The introduction of artificial intelligence, as well as, in principle, the successful management of a region, industry, company, in the modern world requires the use of a data-based management model. First of all, this means that the decision-making process is largely not carried out on the basis of intuition, which, by the way, is also important," he emphasized, obviously referring not least to himself. "But in this regard, I would like to note that intuition itself is made up of what? From experience and a large amount of data that accumulate in a person's head!
Now, surely Vladimir Putin had himself in mind. More data than comes into his head from all directions, it is impossible to accumulate.
But there are no illusions about digital data either.
— No wonder they say: if you digitize chaos, you get just digital chaos! - said Vladimir Putin. - Therefore, when dealing with digitalization and the use of artificial intelligence technologies, it is necessary, of course, first to put things in order, as they say, in our own economy, in any own economy.
It's time to get confused: in general, there is nothing to hope for - neither for intuition really, nor for digital, as they say, transformation.
There was still, as the president put it, a platform approach, but I also wanted to give up on it right away: after all, for a start it was necessary to understand what this is too.
Perhaps that is why Vladimir Putin at some point directly said:
- And I beg you, dear colleagues, - I am now addressing the members of the alliance once again - to provide the Russian government, your colleagues with whom you are in constant contact, with the necessary advisory support.
But the turn came to Andrey Vorobyov:
- In turn, the Moscow region is on the verge of implementing a landmark project. We are talking about implementing a full-scale change in the management system with the widespread end-to-end introduction of artificial intelligence technologies. Maybe the governor - I see he is in the hall - will also talk about this a little later.
Despite the increasing fog in the wording, it was suddenly cut through from time to time by the rays of the sun. So, it turned out:
- The introduction of innovations should not incur large costs for business. To do this, starting from January 1, 2023, when buying and implementing domestic solutions, including in the field of artificial intelligence, businesses can take advantage of tax incentives and allocate additional funds for technological upgrades. For example, when calculating income tax, an amount that is one and a half times higher than the company's actual expenses for the acquisition of advanced Russian developments will not be taken into account.
It already seemed that everything related to artificial intelligence was shrouded in such a fuzzy meaning that one could already stop listening to the president's speech, when suddenly such understandable words sounded like "calculation of income tax", "one and a half times" and "actual expenses".
The Russian president set another ambitious task:
— It is necessary to generally assist the development of our own, sovereign cloud technologies, that is, various platforms, services that allow companies, citizens and authorities to use resources via the Internet: work in applications, store information, and perform calculations. We need to build mechanisms to work, store data on a domestic cloud platform, and we need to make it much more reliable and secure than keeping information and document management in your own computer or on paper.
That is, it was primarily a psychological task: a person should have trusted the domestic cloud platform, which should be more reliable and safer than his own computer. It was necessary, that is, already now, to recognize the superiority of artificial intelligence over any other.
But how to come to such an idea and accept it, if you can still hide your computer before knocking on your door, but the cloud will not remain in your pants.
It turned out that Vladimir Putin's ambitions in the field of artificial intelligence extend to the creation of a new system of cashless payments:
— For example, experts know the "hawala" system, which was many hundreds of years old, long before the emergence of the Western banking system (which annoyed Vladimir Putin so much.— A.K.), performed and, by the way, performs the functions of international settlements. What is its essence? The sender gives the money to the broker in his country. The recipient takes them to another, you can also through the appropriate brokers. Brokers, in turn, make mutual settlements, as they would say now - according to the clearing system. Based on digital currency technologies (they, it turns out, are also welcome.— A.K.) it is possible to create a new system of international payments, which is much more convenient and safe for participants and, importantly, independent of banks and interference from third countries.
And maybe even so, if anything, they won't steal it.
"I'm sure something like this will develop," Mr. Putin added. "Because no one likes this diktat of the monopolists.
The proposed system was not directly related to the field of influence of artificial intelligence, but it was related to the aspirations of the Russian president.
In addition, Vladimir Putin proposed to introduce into circulation the concept of "index of intellectual maturity of the regions." That is, from the federal level they will monitor who is implementing artificial intelligence in life.
Andrey Vorobyov, the governor of the Moscow region, finally said that his region is already more or less intellectually mature. So, the robot Svetlana, according to him, already receives 35 thousand calls every day from those who want to make an appointment with a doctor or call him to his house. She, obviously, is an example of artificial intelligence, which does not allow spoiling and sneaking out of line with the idea of ​​\u200b\u200b"I just ask."
The meeting lasted about two hours before Vladimir Putin moved on to another, via video conference call, with members of the government's Coordinating Council for meeting the needs of the Russian Armed Forces.
Here it was necessary to understand how it is - "to radically improve the quality of coordination and the pace of work of ministries, departments, regions and enterprises, both in general and in the implementation of the state defense order."
And on this, any intellect will, no doubt, suffer a crushing defeat.
And it's better not to even try.