An unusual costume for Mayakovsky was cut at the Teresa Durova Theater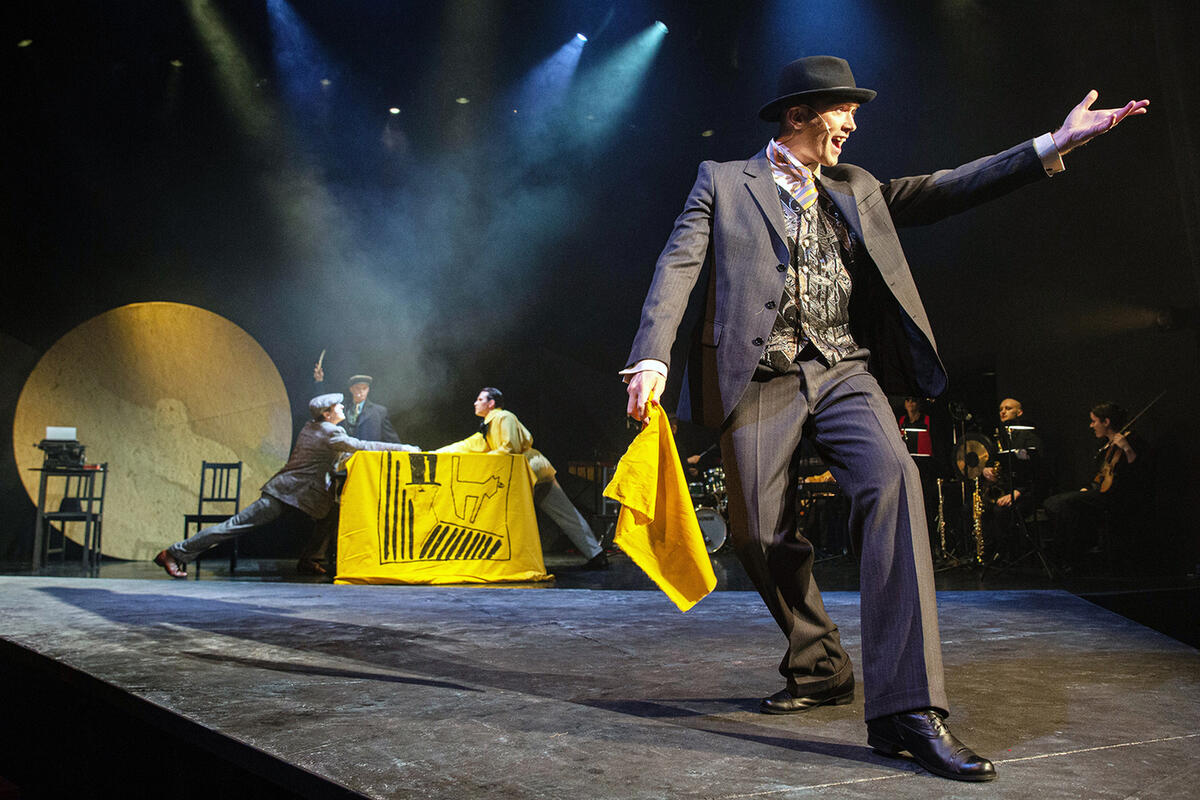 The theater, which is better known for its musical performances for family viewing, celebrated the weighty date of the poet (130 years old) in an adult and unexpectedly original way, staging a performance in a workshop where ... fashion is going on. Where they compose and cut not only jackets with trousers, casual and ready-to-wear dresses - they tailor the material image of the era. The one where there was a revolution in everything: in minds, in words, in the theater, in fine arts, on the street, in public taste, which now and then received slaps in the face. In poetry, her personification is Vladimir Mayakovsky. Well, this one, that proudly takes out a Soviet passport from wide trousers, his "red-skinned passport". Stop! That's what is completely absent in Teresa Durova's performance, so it's a relapse of the old school program. And there is no new one either - she showed us a completely different Mayakovsky.
Do you talk about fashion? Good morning colleague. Is Mayakovsky in vogue? Or fashion in Mayakovsky? one of the first scenes of the play. These questions are asked by young people, sending them like passes of an elastic ball to each other. They are dressed to the nines, in the fashion of the beginning of the last century - trousers with perfect arrows, jackets with exotic-colored vests underneath, wide-brimmed hats (artist Victoria Sevryukova) - well, how was it in the last century without hats? Obviously, as in the current one without them.
Mayakovsky fashion? And not only. "Dressed out of season, lightly, in a black sea cape with a lion clasp on his chest, in a wide-brimmed black hat pulled down to his very eyebrows, he then seemed to be a member of the Sicilian mafia." This is about the early Mayakovsky. And then the music will come in, which will sound constantly for an hour and a half. Mayakovsky jazz? Yes, but jazz is not in the background - he is an active participant in the performance (composer Sergei Kondratiev). In any case, instrumental jazz in a virtuoso performance by the theater sextet suits him very well.
Mayakovsky on the stage, which sharply cuts into the hall at an acute angle (stage designer Maria Rybasova). How once he himself crashed into the life of the capital, forcing the tough guys who call themselves futurists, who united in "Gelea", to talk about themselves. "Mayakovsky, you are a genius!" "Everyone is young (echoing - young, young) / In the stomach there is a hell of a hunger (hunger, hunger ......) / So follow me, behind my back / ... We will eat stones, herbs, sweetness, bitterness and poisons. We will dig for emptiness, depth and height… Everything we meet on the way can be our food," reads David Burliuk (red top hat, monocle in his left eye, tattoo on his right cheek). exotic fruit. His companions in costume cutting and verse look no less exotic - Lifshits, Khlebnikov, Kruchenykh. Their slogan is "Words in freedom", confirmed by strange metaphors like "weepy-nosed tulips", "Aphrodite, which is like a cramp of a rotten egg", "carousels on a tree of the uprising of good and evil" and other verbal dizziness. Yesenin is not among them - otherwise the golden-haired miracle of the Ryazan land would have pulled the "blanket of attention" over itself.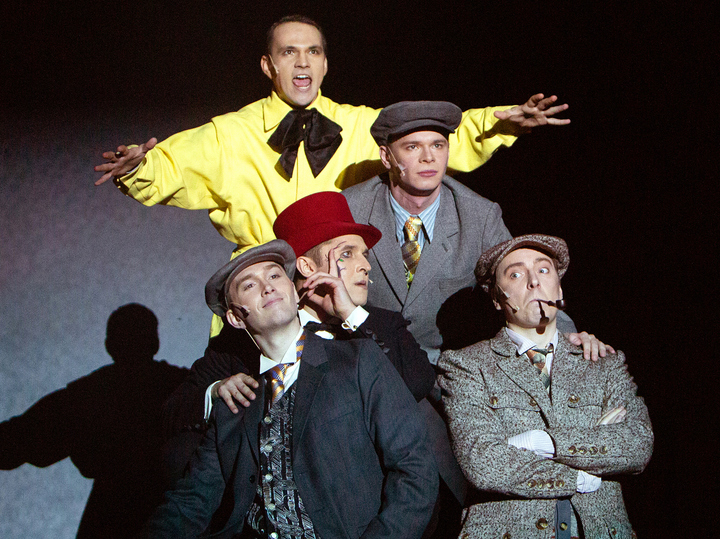 An interesting idea of ​​​​the director is that impudent futurists periodically, like out of a coat, come out of their character to become one of the five Vladimir Vladimirovichs. Durova really has five of them, and different ones - lyrical Mayakovsky, eccentric, insolent and bully, touchy and offender, thoughtful and plastic - there are a lot of shades. I note that none of the artists, neither in height, nor in face, nor in stature, resembles a poet. But, oddly enough, the principle that the viewer is always looking for an external resemblance of the performer to a historical person does not work here. The director achieves the opposite effect - similarity without any similarity. The main thing is that there is a strong image compiled by Durova (she is also the author of a literary composition) from himself - poems (there are 30 of them), which the artists read and played accurately, from his personal confessions in the autobiographical story "I myself". The portrait is supplemented by the memories of others.
His rhyme is free: "He went to the hairdresser, he said calmly:" Be so kind as to comb my ... ears. The smooth hairdresser immediately became coniferous, his face stretched out like a pear. "Crazy!" - jumped words, swearing rushed from squeak to squeak. And someone's head giggled for a long time, pulling out of the crowd like an old radish. And ideologically imprisoned under the state order. But even he did the order with talent and inspiration. Let's take an advertisement for galoshes that are impudently squeezed into the title of a play. For Mayakovsky, this is a rubber product of the enterprise, from the name of which one can wither - Rezinotrest, sounds like a song: "Wear our galoshes for a century / neither Elbrus nor Kazbek will wipe." Or "It's more elegant without galoshes - that's a lie! / All the elegance comes from our galoshes." And here is today's one, with a hint of import substitution: "Rezinotrest is a defender in rain and sleet / Without galoshes in Europe, sit and cry."
Durova builds the structure of her performance without reference to dates, times and places. Mayakovsky will appear in her and sound like flashes, sweeping, eccentric, witty. The team of actors - Rufat Akchurin, Sergey Batov, Mikhail Buber, Pavel Povalikhin, Georgy Shabanov - and musicians work incredibly harmoniously, recklessly, picking up each other. So, drummer Pavel Demidov suddenly reads the most complicated "Sdvizhnikov" of the Kruchenykhs, while accompanying himself and carrying the installation. When Sergey Batov sings "Listen, because if the stars are lit, then someone needs it," it will sound gentle, like a flute in the night, and not at all drainpipes. And there will also be a dashing intellectual chanson "Marusya poisoned herself", a cappella to transparency "Clouds floated across the sky" and Georgian polyphony with access to the hall, which beautifully designed the visit of the futurists to Tiflis. And Mayakovsky will speak Georgian, which he knew perfectly from childhood.
Durova will return to the theme of the poet's tragedy, which was already indicated in the prologue of the play, closer to the finale, when one of Mayakovsky reads a fragment from Cloud in Pants, turning to God: "... I thought you were an all-powerful god / And you are a half-educated, tiny god / You see, I bend down, I take out a shoe knife from behind the bootleg / Winged scoundrels, huddle in paradise, ruffle your feathers in frightened shaking / I will open you, smelling of incense, / From here to Alaska ... ". And, perhaps, this is the most powerful and scary scene of the play. But not the point. Durov will put an unexpected point, quite logical for his theater, but in the context of the time, it sounded philosophical.
- The little son came to his father, and the baby asked: "What is good? And what is bad? Artists read the classics of children's poetry together with the audience. And in the current confrontation of values ​​and upholding them by any means, this issue is more acute than ever. Hello Mayakovsky. Thanks to Teresa Durova and bravo to her artists.